ARTIST FOCUS: WE PIN DOWN THE BOYS FROM ESCAPE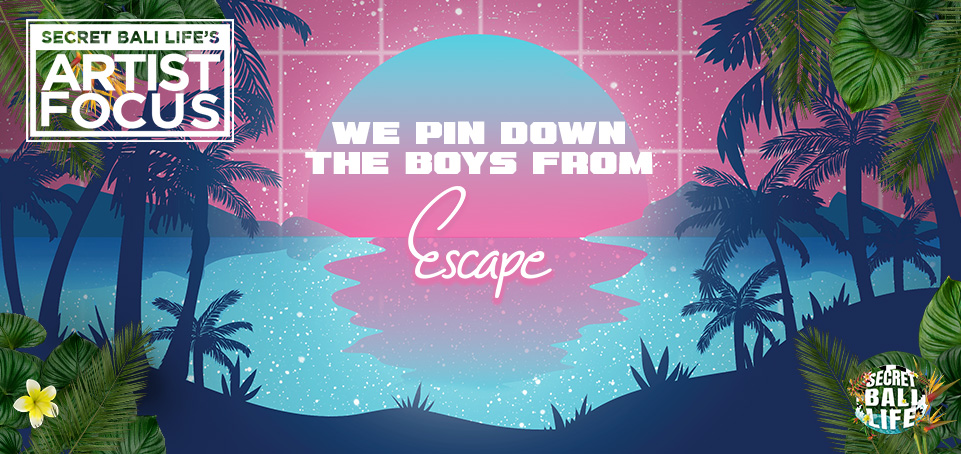 Resident Bali party starters Escape have been known to throw events you'd sell your left kidney to relive again. Distinguished by their discos balls, adorned purple and occasional dressing up, they've been putting together unforgettable parties across the globe for 10 years now, with their Bali offshoot coming to fruition in 2016.
And, you'd be correct to assume the guys behind the group are just as groovy as the music they create. We sat down with the Escapees behind the madness: Scotty Cal, Papü and Kaiser Waldon, to talk about the highs and lows of Bali and its parties, and all the going-out gossip in between.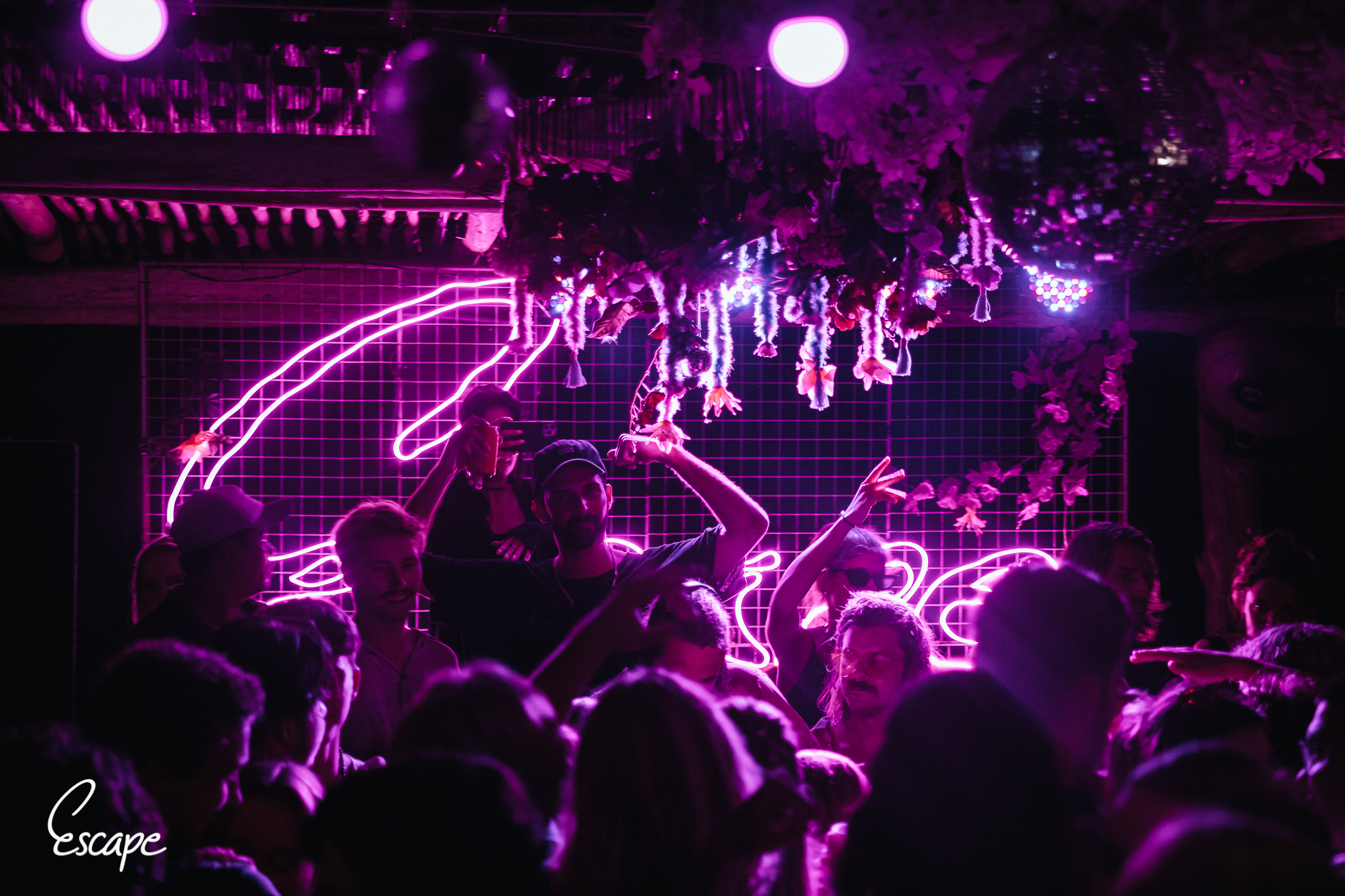 It's a new year full of new excitement. What was your best moment for the brand in 2022, or a moment you'd love to recreate?
Scotty Cal: Wow, there was a few! But seriously TALEENA on the Ocean Deck (Ulu Cliffhouse) blew my mind. I was trying to find a female DJ all season who fit the bill! The deck was rammed to the brim, and she not only sent the place sideways, but she also assimilated in with our whole crew so well! My jaw was hurting from all the smiling by the end of the event.
Papü: We've had so many good times in 2022 since we started throwing our events again. My personal favorite was our launch party at La Brisa where singer Bianca and I performed our first official hybrid set together and all our friends were there to witness the magic, we had been practicing for a couple of weeks so it felt really nice to see it come to fruition and feel the joyful energy from the crowd. Can't wait to do it again!
Kaiser Waldon: I'm glad my partner Scotty Cal is back! It was a bit lonely running the Escape events solo during Covid, without most people who I consider the 'soul' of Escape.
Obviously you guys have great connections with both Ulu Cliffhouse and La Brisa, what do you love about those venues that get you going back to them time and time again?
Scotty Cal: Honestly I think the answer is the ocean and open sea breeze, we're so close to nature. There's something about being beach-side with pumping house music that you can't recreate anywhere else.
Papü: The setting we strive for our Escape parties is in beautiful scenery – outdoors, open air, near the sand or ocean and paired with a pristine sound system. We feel as though Ulu Cliff & La Brisa both embody the visual and auditory essence of Escape.
Kaiser Waldon: La Brisa is an incredible venue that captures a specific feeling and creates a unique world experience; it reminds me of Neverland from Robin Williams' Peter Pan.
Is there a venue you'd love to see an Escape event at this 2023?
Scotty Cal: For now we want to continue our amazing partnership with the two incredible venues we have. We would love to have some more overseas take overs, Ibiza here we come!
Papü: We are really happy with where we are, but we do have one in mind for 2023, unfortunately that's TBA…
Kaiser Waldon: There's a few, but you'll have to wait and see…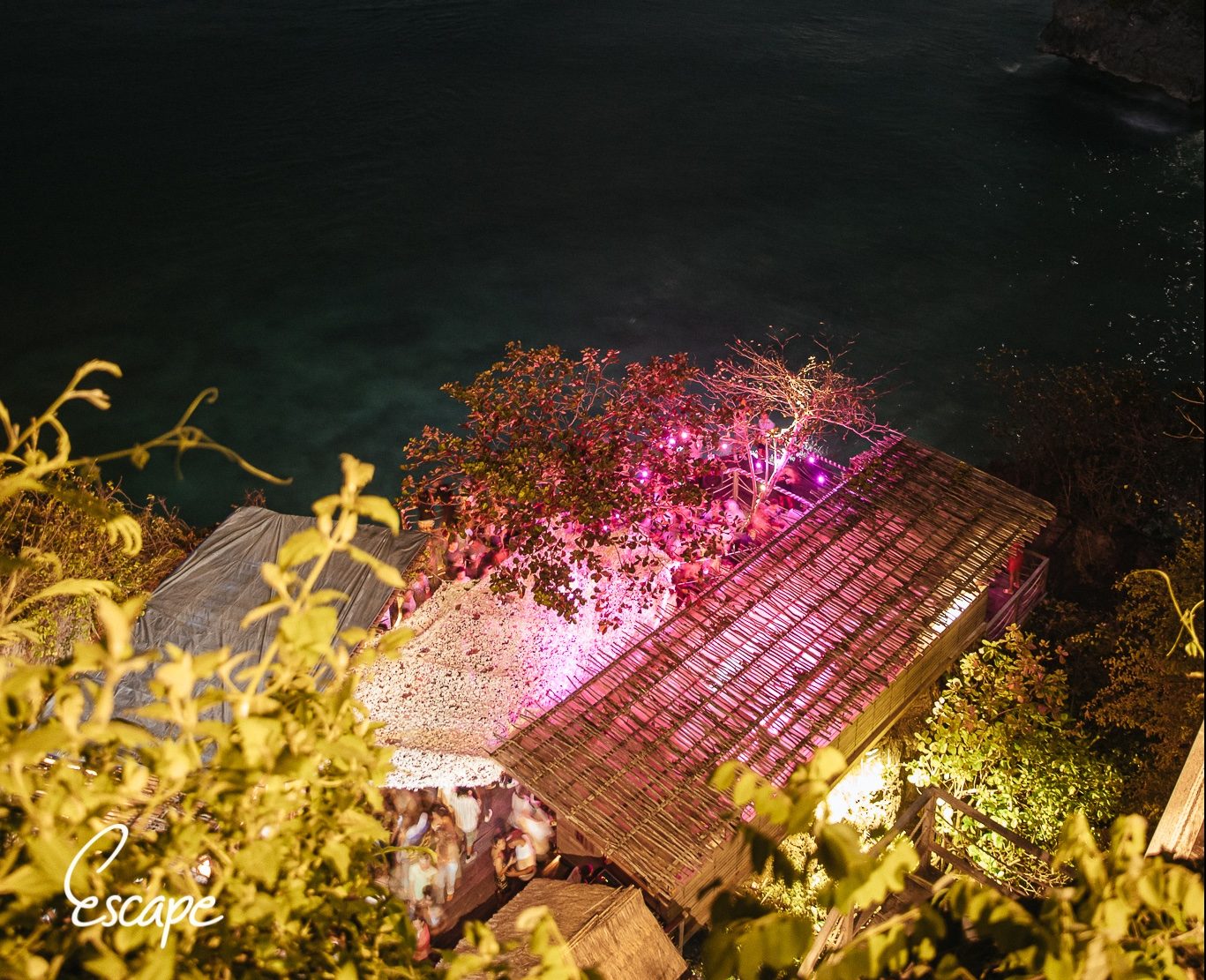 When you're not busy and you have some down time in Bali, what is your go-to place to unwind and relax?
Scotty Cal: AMMO SPA. End of story!
Papü: I try to take my dogs to the beach every day. On special occasions I head to Taman Beji Punggul to clear my mind and body of any unwanted energy. It's a beautiful waterfall temple one hour north. You come out of there feeling incredible. Highly recommend.
Kaiser Waldon: I spend time with my newborn son, Riva, and my wife. As long as we're together and I'm not looking at my phone, I'm unwinding. The mountains have become our family favourite spot to go to in order to unwind and recharge.
In the complete opposite vein, what's the longest you've gone continuously partying?
Scotty Cal: Well, this depends If you mean the longest I've been awake or how many consecutive nights in a row… But, I will tell you this, myself and Kaiser danced together for 10 hours straight at Jenja one time. No gym needed!
Papü: Our crew notoriously works long weekends every week, Thursday – Monday!
Kaiser Waldon: Some of my friends have gone for 4-5 days… I don't think I can go longer than a moderate 2-day-sesh as I love my bed and sleep far too much.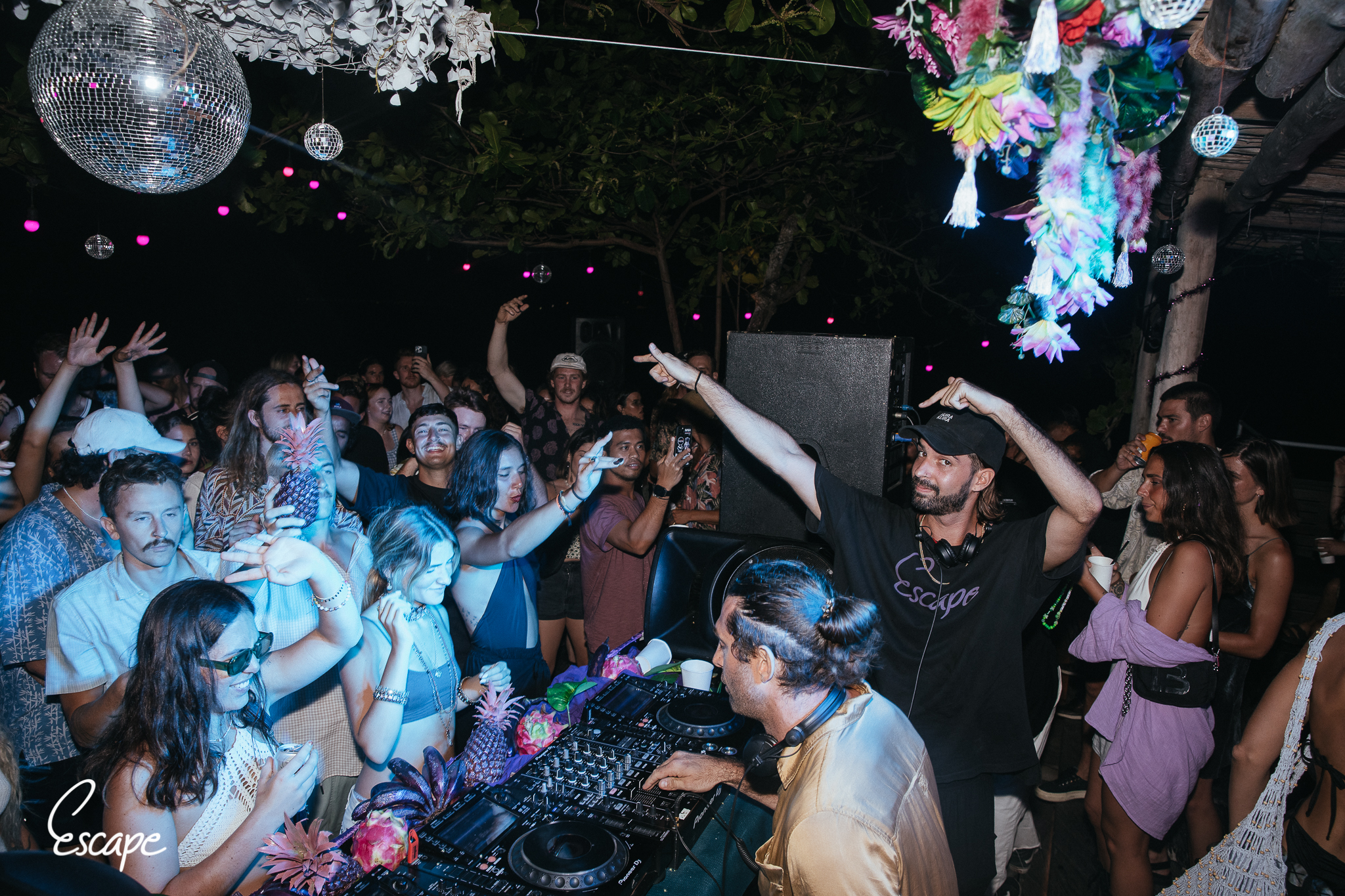 As residents of this beautiful island and in your eyes, where does Bali fit into the party and music space globally? What's its niche?
Scotty Cal: Bali is growing, and growing fast. I'm happy to be so actively involved in this very rapidly evolving music scene. There's big vibes here, I'd never get to see and meet some of the amazing artists I get to here back home in Australia.
Papü: People talk about high and low seasons in Bali, but it feels like every year the low season gets shorter and shorter. I feel like 2023 might have no low season at all… We have huge artists coming here throughout the whole year. I feel very lucky to be a resident on this little island.
Kaiser Waldon: Bali is its own unique experience. Its niche is the island itself; the Balinese culture and Hindu religion that comes with that.
The Balinese are very active with their ceremonies, and all that praying and honouring gets put into the local collective consciousness. It's an intense island that has equally powerful light and dark energy.
Before, it was the waves, then yoga retreats, and music driven events were an afterthought. Now, I think we're in a phase where we're seeing more and more people coming to Bali specifically for the music events, it's a good sign of things to come.
What are the main changes you've seen in Bali since starting Escape, has there been a shift in the audience or attendees you get at your events? In what way has it changed?
Scotty Cal: Yes, the place is forever changing, but the essence of Escape has always been the same. All inclusive music lovers from all over the world, uniting together for some dance floor groovers.
Papü: I only started helping run the parties since my stint in Tulum 2021, once I returned to Bali in 2022 I became partner in running the events here. The main thing I have recently noticed is the influx of Dutch party goers (which might have something to do with our recent PIV record label bookings).
I'll also add that I'm so grateful to have a large support system here of expats that come to our events. I love our Escape crew and all of those that have joined our family so far!
Kaiser Waldon: Bali is fast. The place has an almost 'instant karma' feel to it. So, the change here is fast.
I think we've seen a greater acceptance and appreciation for house music; when I got here seven years ago it was mainly techno, EDM and deep house at beach bars for sunset, with no concept of warming up the music. Musically, I think there's more variety now, probably grounded in more maturity.
There's now more producers here whom are making their own music, and playing it out inspired by their own experiences on the island. Another good sign of our emerging industry.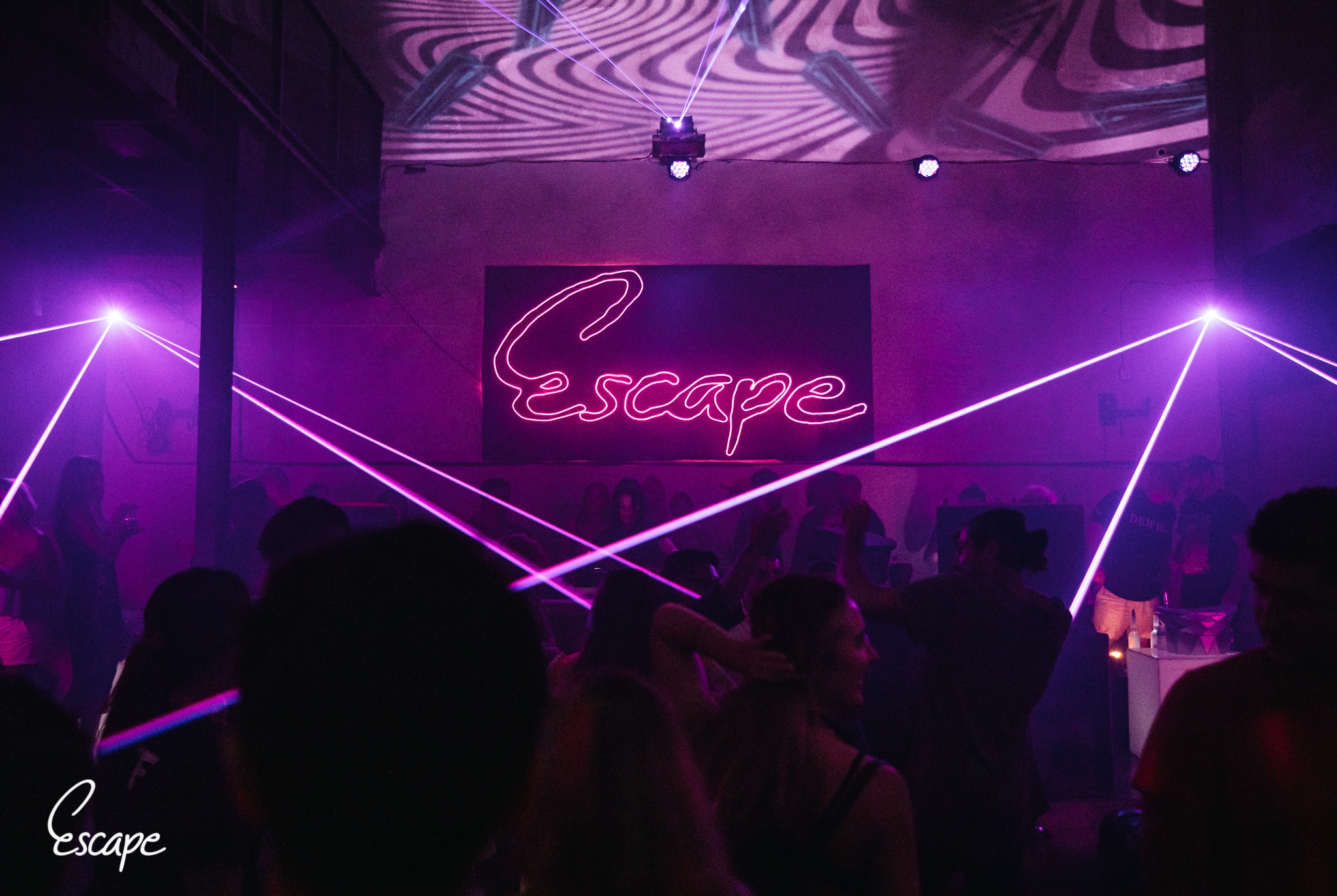 Your best friend is stopping over in Bali, they only have time to go to one restaurant before they have to catch their connecting flight, where are you taking them?
Scotty Cal: Hmm MASON or SHIMA!
Papü: Most of my best friends grew up here so we would probably go to Bu Nik for some stomach destroying Babi Guling.
Kaiser Waldon: Mosto.
How have you adapted your sound, if at all, over the years Escape has been running?
Scotty Cal: I think our sound has been naturally evolving over time. We all have a similar taste but also our own unique quirks, it's what makes our B2B's so fun!
Papü: I first fell in love with techno in Amsterdam in 2013. The raw, dirty, chunky sounds of DJs like Ben Sims, Joseph Capriati and Benny Rodriguez blew me away. My progression to warmer house music started when I moved back to Bali afterwards, in 2015. The move made me realise that the particular sound I first fell in love with was more suited to the cold bunkers of Europe, than the outdoor, vibrant venues Escape is synonymous with.
Kaiser Waldon: I wouldn't say adapted, rather evolved through my own musical journey… I don't like forcing people to do things, I like people wanting to participate on their own with enthusiasm so that's reflected in my music. I like to build trust and give people time to get used to an idea. There's already so much of that short attention span stuff out there, I don't want to contribute to that, if I can avoid it. 
Name one thing you love about each other 'Escapee' and one annoying thing they do?
Scotty Cal:
Okay! What I love about Kaiser is his ability to inspire people. I've said it once, and I'll say it again, one thing that annoys me about him is when he wears those socks with toe-holes and thongs together haha.
Jonny, Papü, it's hard to get annoyed at this guy to be honest. I have all the love in the world for him. I love our silly sense of humour, like thinking it's hilarious to throw toilet paper in the fan at our Uluwatu villa.
Papü:
Scotty Cal loves to pour vodka on people mid-set, he also is a notorious vape nabber, these are two things I love to witness while we play at events haha. He doesn't annoy me at all. We have a lot of fun!
Kaiser Waldon is a genius, he is constantly feeding our team with priceless knowledge and love. But, Kaiser runs on Bali time (jam karet +2)!
Kaiser Waldon:
I love Scotty Cal's enthusiasm when he's sharing music, but I find his head phone volume annoying when we play B2B, it's too loud! 
I love Jonny's (Papü) artistic creativity when it comes to his productions. I don't think Jonny's ever annoyed me? 
I love all 3 of the fellas actually (Scott Bruce is also a member of the Escape crew, if you were thinking Kaiser can't count), each of them embody the Escape values of inclusion rather than exclusion!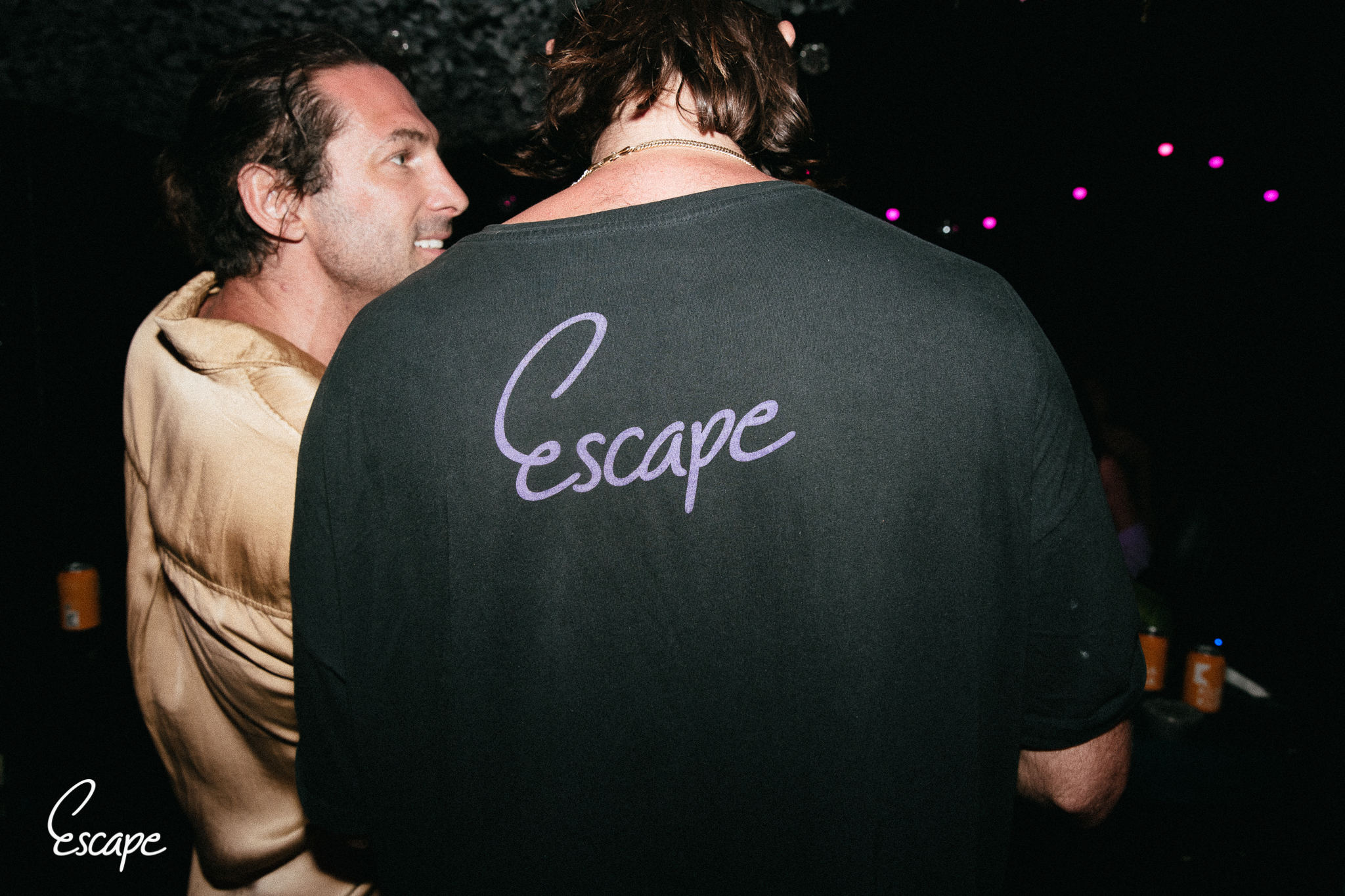 What's the dream Escape line-up if you could book it tomorrow?
Scotty Cal: Sidney Charles, Archie Hamilton, Chris Stussy. Solid grooves B2B.
Papü: Here's a couple of my all-time favorite artists; Toman, ANOTR, Djoko, Michael Bibi, Martinez Bros.
Kaiser Waldon: I'm going all out here… I think that's an Escape festival goal right there! Maceo Plex, Rampa, Bicep, Solomun, Desiree, Egyptian Lover and Archie Hamilton. 
Do you guys ever pull pranks on each other during your sets? What's the worst thing one of you have done to another during an Escape event?
Scotty Cal: One time I double-dacked Kaiser (that's 'Australian' for pulling someone's trousers down). Haha jokes, ummm yeah, I do have one but it's not appropriate for a Bali news article! None of us would really purposefully sabotage each others sets ever to be honest, it's all love.
Papü: Scotty Cal and I prank each other on the regular, nothing too crazy! But we're always having fun.
Kaiser Waldon: Not really! I'm so in the zone playing, and we're always just having such a good time!
You've got three words to describe what's in store for Escape this 2023, what words are you picking?
Scotty Cal: LET'S F*CKING GO!
Papü: Growth, Teamwork, Family.
Kaiser Waldon: Label, New Producers and Expansion (maybe Kaiser can't count after all).
What's an event as DJs you're excited about this 2023 in Bali?
Scotty Cal: Well we have a couple of dream bookings coming up at La Brisa,  we'll let you know very soon…
Papü: I haven't been more excited for an event in a long time than our upcoming Escape event at La Brisa ft. Jasper James! (I'm also very excited to be on the line up for Michael Bibi at Savaya the next day).
I am so grateful to be supporting some of my favorite artists and the best venues in Bali. 2023 is kicking off with a huge bang and it doesn't look like we are stopping anytime soon!
Kaiser Waldon: La Brisa with Jasper James from Circoloco is going to be a really big one on Jan the 27th. The energy in Jasper's sets, and how he can lock you in on the dance floor and keep you hypnotised is the experience every partier is wanting.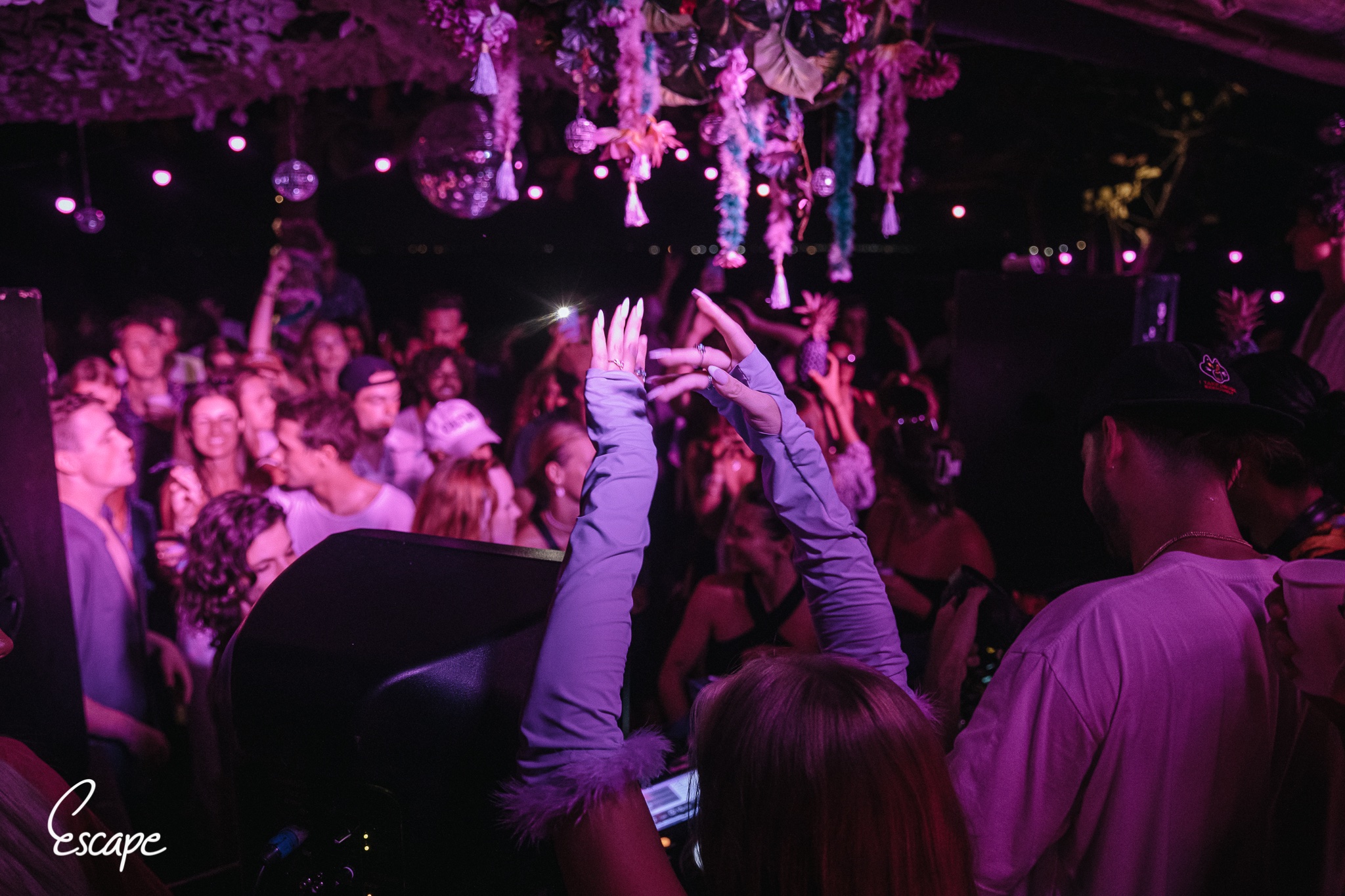 A big thank you to the boys for giving up their time to speak to us at Secret Bali Life. As I'm sure you're now keen on seeing the magic behind Escape for yourselves… The next Escape event will take place on Friday the 27th of January at La Brisa. Scottish DJ Jasper James will be headlining the event, with the oh-so-smooth house and techno sound that's carried him into some of the best venues on this planet, such as: Fabric, The Warehouse Project, Smartbar, Blitz, Lux, Bobbeaman and of course, Sub Club. And all that doesn't even include the year-long residency James held at South-London cult favourite underground club Phonox (believe me, one of the best in London).
Joining James will be the very eclectic Garry Todd from the Knee Deep in Sound Label and the regular Escape Bali residents: Scott Bruce, Papü, Kaiser Waldon and Scotty Cal.
With some of our London roots at the SBL office, we're frothing at these two artists headlining the next event, so you'll definitely see us busting moves there!
Early bird tickets are on sale at the time of writing for IDR 100,000. Grab yours now, and spend the difference on some Bintangs for you and the crew.
Follow Escape for close updates on their future events at @escapepresents.