GOING IN DEEP: ESCAPE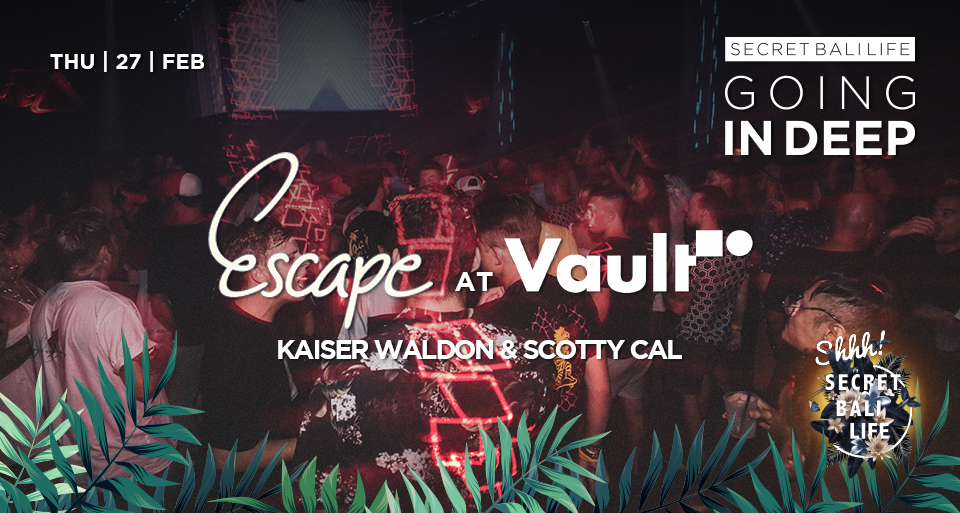 The legendary 'Escape' event series has taken over Bali and they've set up camp in one of the islands favorite nightspots, Vault. For this edition of Escape on February 27th, they're bringing in eternal music lover and new technologies aficionado Luís Batista aka NOX – We talk studio time, girlfriends and 2020 with Escape creators Kaiser Waldon and Scotty Cal.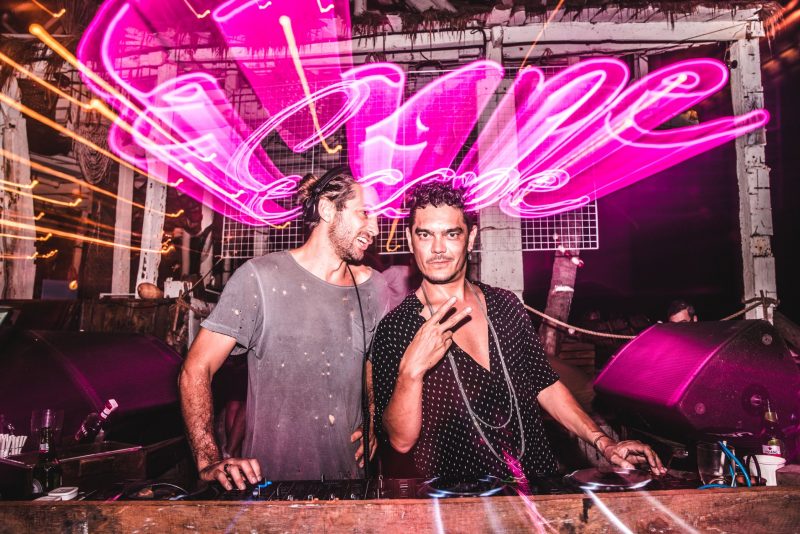 ESCAPE KEEPS GOING FROM STRENGTH TO STRENGTH AS A BRAND AND POPPING UP IN VARIOUS VENUES, TELL US ABOUT THE LATEST NEWS FOR THE BRAND AND HOW YOU DIFFERENTIATE WHAT YOU DO IN EACH VENUE?
___________________________________
SCOTTY: 2020 is shaping up to the be the most exciting yet. We have partnered up with the Vault, which allows us to show case our deeper, "underground" style of music, hosting the likes of Chris Stussy and the boys from the Breakfast Club in Melbourne. At our next party on Feb 27 we are excited to welcome Nox to the decks, who is really excelling in this style of music at the moment. 
As of April we will be partnering with veteran beachside venue Old Man's in Canggu, which has absolutely exploded with thousands of people coming every Saturday night! Escape will be delivering pumping house tunes which are a fundamental part of the sound of the brand… We came from – and are powered by – a love of house music!
Our final venture for the year is an amazing bi-monthly partnership with Omnia Bali. Our first party went off with a bang, hosting Edu Imbernon who played to a heaving dance floor from afternoon to night. The March edition is sure to be the same… stay tuned for an exciting headliner announcement!
There's something here for everyone. We are so lucky to be able to showcase our different styles of music to our visiting friends, Bali family and likeminded groovers.
KAISER: I think Scotty did a nice job of summing this all up, I also wanted to add we are very lucky to have such a variety of partners / venues to work with and I think that comes down to how much we love and respect what we do and how we don't get stuck in the politics which every industry can have. This allows the venues and most importantly the people who come to the events a myriad of escapes… which has always been the vision..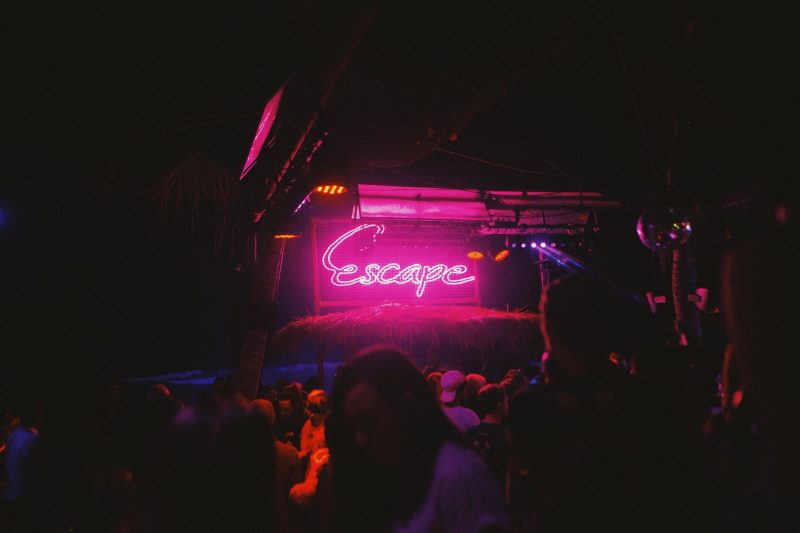 WHAT WERE THE HIGHLIGHTS OF 2019 FOR ESCAPE AND YOU GUYS IN PARTICULAR?
___________________________________
SCOTTY: 2019 was a truly special year for us, enjoying a wild season at La Brisa. The incredible sunset there always paved the mood for an epic night. My personal highlight was the night Robbie Lowe headlined and we partied with an international crew of close friends who were visiting Bali. Seeing everyone together on the dancefloor was a real moment!
KAISER: In 2019 the focus was our events in La Brisa, this really put us on the map and allowed the brand to get some important exposure in Canggu, our goal was to always have a place where you could appreciate the sunset and then Dance, and we held of on many offers until the right venue popped up. In many ways we owe a lot o gratitude to the Team and La Brisa for their support and belief in escape. Each event we did was magical, it truly was… you can feel this magic when you sense the openness of peoples vibes. That creates a relaxed environment and people really then can enjoy themselves. My personal Highlight was the closing party… there was so much love in the room, (I was on my 1 month sober detox) so I can remember it so vividly … There was a Scottish girl dancing in front of us she said "come on give it all you got I got a plane to catch in 3 hours" … 1 or 2 so hours in I was like don't you have a plane to catch .. She's like F**K that I'm having to much fun! This is actually all caught on camera as we posted half of our closing set on Youtube..
(find the video below)
WE UNDERSTAND YOU GUYS HAVE BEEN BUSY IN THE STUDIO MOST RECENTLY, HOW HAS THAT WORKED OUT AND WHAT ARE YOU COOKING UP?
___________________________________

SCOTTY: I am currently working on a 3 track EP which is very close to completion. This will definitely be the biggest and most exciting time of my career so far. Finally I get the share my own music with everyone!
KAISER: I'm in a real good place at the moment with my music, I'm writing 2-3 Singles a week, then playing those in my sets testing and tweaking. I've got a release coming out every month with various labels, and I was fortunate to remix Torren Foots More Life out on [Club Sweat] which stayed at No.1 in Beatport for over 6 weeks.. It takes a long time to find certain personal traits that you have and work out how to exploit them and make those shine through in your music… I feel like I've finally found how to do that across the multi genre's that I write under the House & Techno banner.  My latest single is out on Basement Love records called 'Being an Artist' my next ep drops in Feb on Love international called Prince, then I have my Tribute to Frankie Knuckles self titled.. coming out on Nicky Night Times Label [Music to Dance Too] plus the same month I finally joined Doorlys family under his label [Repitle Dysunction] with my Track 'over you' which will come out on his WMC Sampler… I have a collaboration with Xinobi in the works, and also Finnebassen.. There's more to talk about but for the time being I think I'm giving away just enough 🙂
DO YOU SEE MORE OF EACH OTHER THAN YOUR GIRLFRIENDS THESE DAYS? JOKING ASIDE WHAT ARE THE MAJOR POSITIVES AND NEGATIVES OF BEING SO CLOSELY JOINED AT THE HIP IN A PROFESSIONAL CAPACITY?
___________________________________

SCOTTY: Well, not exactly! I do love our B2B sessions and we have a very similar taste in music so there's always epic vibes when I play with Kaiser. The positives I would have to say is collectively watching all the hard work we have put in together pay off. We both play to our strengths in both a personal and professional capacity, which complement the other.  I have learned so much from Kaiser and continue to do so. I am very lucky to have him in my corner.
If I'm being honest I don't see scotty at all that much and usually the conversations are work related.. we don't really go out to other events together, I guess because he's also got a girlfriend they have to make sure they have their own time.. So our events are kinda where we hang, plus we both work so much, both as dis but also on escape and our production behind the scenes.. I would certainly like more social outings with the pair of them since I love them dearly.. so I'm hoping I can work towards that in 2020…
KAISER:The positives are obviously the fruits of our combined strengths, and escape would not be where it is today in Bali if it wasn't for Scotty's involvement and leadership.
The negatives are I think our personal relationship suffers.. since the conversational topics are always work related in some form even if its music or studio related its work.. and I think that sometimes its hard to work out which hat to wear during the multi facet conversation… Learning and reading  about other partnership dynamics.. I discovered that its quite common that this is simply the case with people who work so closely together. We are both strong minded with our opinions and ideas, so sometimes we have a bit of a stand off while that can be seen as a negative, I think those friction points help us forge the right idea for escape under pressure.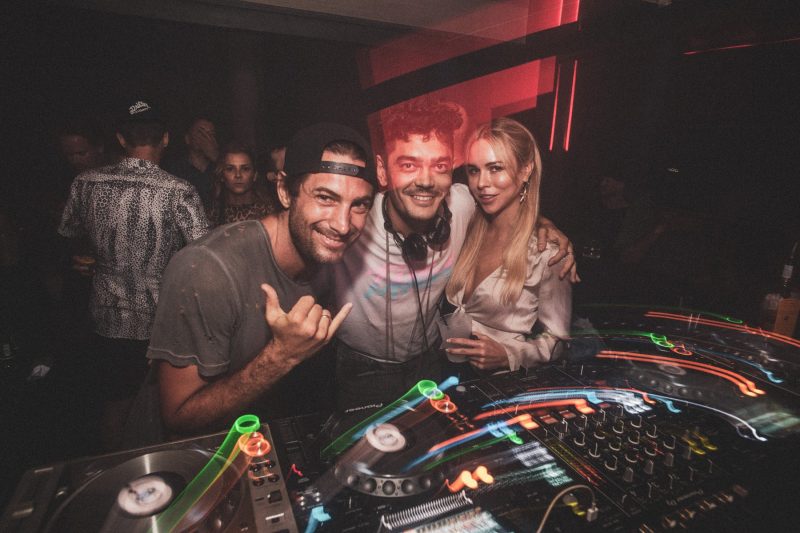 WHAT DOES 2020 HAVE IN STORE FOR ESCAPE?
___________________________________

SCOTTY: We love the idea of an "Escape Festival," but for further details, you'll have to watch this space.
KAISER: With escape Scotty handles and oversees the physical side so the day to day running of our events from the marketing side as well as managing the accounting and making sure the promoters are doing what they should be doing..
Our brand is going into the next phase of maturity where I'm bringing a specialist who's literally packing up his life in South Africa to become our digital specialist, as now we need to really focus on upping our game in how the brand is marketed and represented online.
Getting that running like a well turned engine will take the whole year especially with working with our 3 partners Vault, Omnia & Oldmans…
There is no festival plans for 2020 but there are some bold plans in the works for 2021, My focus is on user experience so 2021 I'm hoping we can increase the positive value of how experiential our events are.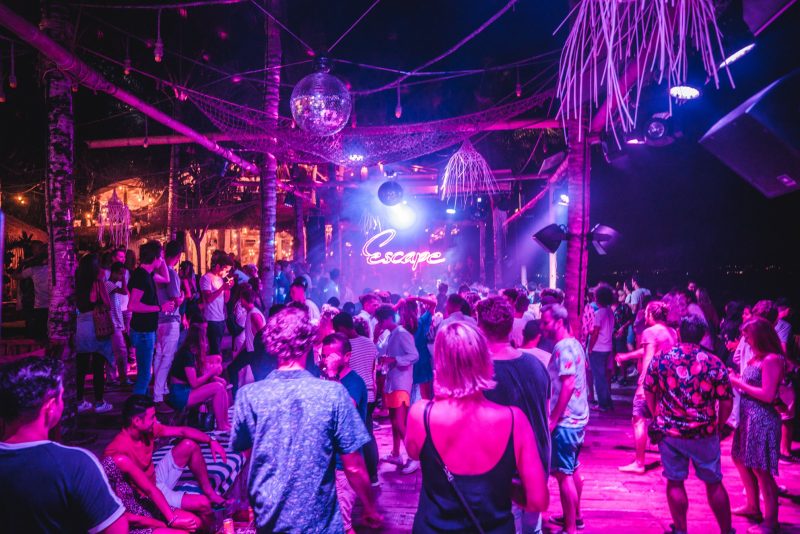 LAST AND NOT LEAST, WE WANT YOU TO TELL US 3 THINGS ABOUT THE OTHER BASED ON THE THEME
OF THE GOOD, THE BAD AND THE UGLY… GO!
___________________________________
SCOTTY: The Good – Kaiser has always pushed me and believed in me. He also convinced me to move over to Bali and kick this epic venture off with him on the island!
The Bad – Not going to answer this one as you will need a few extra pages… Joking! It's all good vibes.
The Ugly – Wait…Maybe the bad and ugly are one and the same! Kaiser has a habit of wearing socks with individually encased toes. Sometimes with thongs… No!
KAISER: The Good, Scotty's taste in music is impeccable.. You can't buy or teach style.. Its why our b2b sets can be quite exciting and I'm always excited about new music he has discovered.. Thats one of the funnest things about friendships based on two people passionate about music.. He used to be one of our best promoters for escape back in Sydney.. and now because he's trusted me and moved over he's now my business parter for the escape presents! So I'm very lucky!
The Bad, he's a stubborn one.. (Let me elaborate on this) So giving advice you have to be super tactful. It can be exhausting since its faster to be direct. My feedback can come across as harsh, non sensitive, but its not its just unemotional real talk. I see so much Talent in him and potential more than I could ever personally dream off achieving, he's got it all, if and when he really starts confront himself and really be vulnerable we will start to  see someone that will change the world! I've seen glimpses of it… I'm talking John Lennon shit.. this guy is a genius and he doesn't even know it yet! The Sleeping Genius hahaha .. When I listen to the first 4-5 songs I ever tried to make, compared to his first 3-4 tracks thats he's personally done with no assistance I can see just how much further he is than I was at that stage of my life. Thats called Talent.. I can't wait to see what stuff he's doing when he has around 500-1000 songs under his belt! I think we are all going to be absolutely blown away.
The Ugly.. Honestly there really isn't anything ugly..
Be apart of the legendary Escape event series on 27th February and get front row seats to see why Kaiser Waldon and Scotty Cal's baby (Escape) has become one of the IT events right here in Bali. See you guys… in the big room at Vault, doors open at 11pm till late and entry is free before midnight, kids! (150k after midnight + a drink)