Lockdown Diaries Of A DJ – Kaiser Waldon – The Double Edged Samurai Sword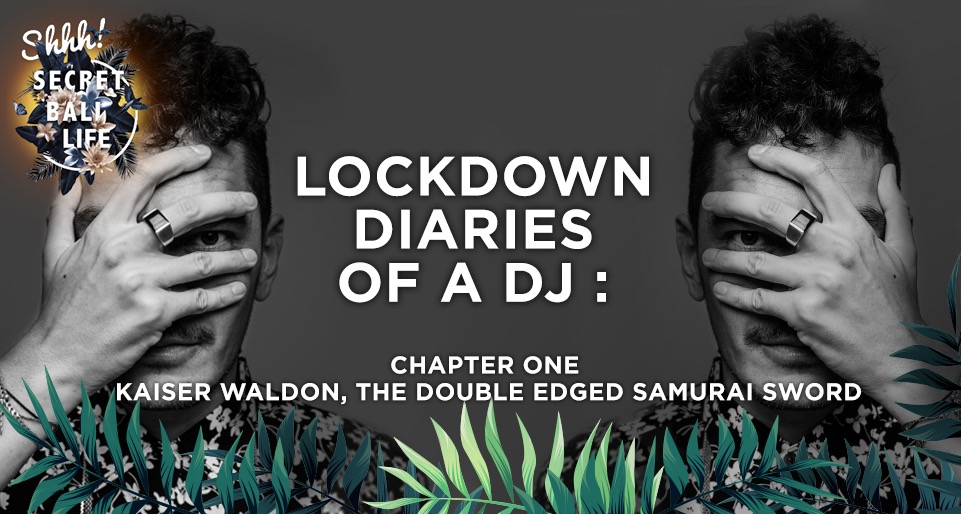 LOCKDOWN DIARIES IS A SERIES WE WILL BE RUNNING WHERE WE SPEAK TO BALI BASED DJS ON THEIR STORY OF THE TOUGHEST TIME THE ISLAND HAS KNOWN AND HOW THEY HAVE COPED AND WHAT THEY HAVE BEEN UP TO, AND WE WERE INSPIRED TO DO THIS FROM HEARING THE STORY OF THIS MAN… KAISER WALDON. 
KAISER WAS, AND STILL IS OF COURSE, ONE OF THE MOST POPULAR AND ESTABLISHED DJ'S ON THE CIRCUIT IN BALI WHEN THE CORONA VIRUS TOOK ITS TOLL AND CLOSED DOWN NEARLY EVERY VENUE AND COST DJ'S LIKE KAISER DEARLY AS THIS MEANT AN EXTENDED PERIOD OF NO WORK.
RATHER THAN SIT AT HOME WATCHING NETFLIX OR MAKING BANANA BREAD, KAISER BLESSED WITH FINANCIAL SUPPORT FROM HIS FAMILY, GOT HIS HEAD DOWN IN THE STUDIO AND INSPIRED BY A CERTAIN ANDY WEATHERALL, WHO PASSED AWAY RECENTLY, AMONGST OTHER MOMENTS OF INSPIRATION, CREATED SOME ABSOLUTE BELTERS AS WELL AS AN ALTER EGO BUT WE WILL LEAVE THE MAN HIMSELF TO TELL YOU MORE.
BUT BEFORE YOU DO WE SUGGEST YOU HIT PLAY ON THIS AWESOME TRACK FROM THE MAN HIMSELF, CREATED DURING LOCKDOWN WHICH HE TALKS ABOUT LATER ON IN THE ARTICLE…. SIT BACK, AND WE HOPE YOU ENJOY WHAT IS ONE OF THE MOST HONEST AND REAL INTERVIEWS WE HAVE EVER DONE WITH ANY ARTIST IN BALI AS HE TALKS ABOUT HIS MUSIC, HIS CRAFT AND HOW HE HAS BATTLED WITH DEPRESSION AND TURNED IT INTO SOMETHING BEAUTIFUL THROUGH THE STUDIO.
KAISER WALDON & Nii TEI – ARBOR (Original Mix)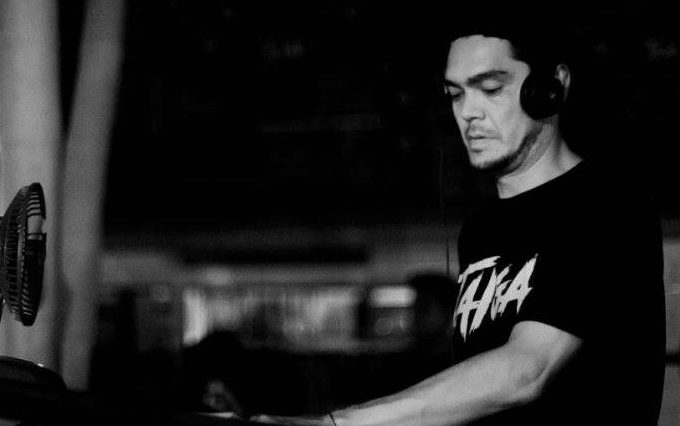 HOW DID YOU TAKE THE INITIAL HIT WHEN YOU LOST ALL YOUR GIGS PRETTY MUCH OVERNIGHT?
Firstly, I'd just like to say Hi… Its great to reconnect and this feels like the right place to reconnect my self to the public domain of the internet world again..
Hmmm.. I reacted with mixed emotions.. to be honest I was djing too much… (I know that now) but when you're in the trenches you don't get the chance to pause and reflect you just keep going and going. I'm grateful for that, though at the same time I was able to play in many different settings and share different aspects of my sound and playing styles. All of which I really enjoy…
Back to the question.. sorry, I'm a bit chatty since Its been a long time being social.. When I got the text on the Monday morning, telling me 90% of my work was effectively over, I knew this was serious. I guess I took it pretty well, I had some savings but didn't consider just how long this period would last. I was at burn out stage, with all the gigging and music making, my life was totally out of balance…
I mean it must be similar for many creative / artist types, that our biggest challenge is to get that balance right with sleeping, vs making art when those moment of inspiration strike us anywhere anytime vs also having the work ethic to constantly be creative even when you don't feel it. The latter being one being the hardest aspects yet most rewarding methods. Someone once told me, (I'm gonna paraphrase Picaso here) "Inspiration is always there… but it has to find you working first." Personally speaking I find there is a lot of truth in that… once you get into the zone, flow or groove that creative magic starts to happen.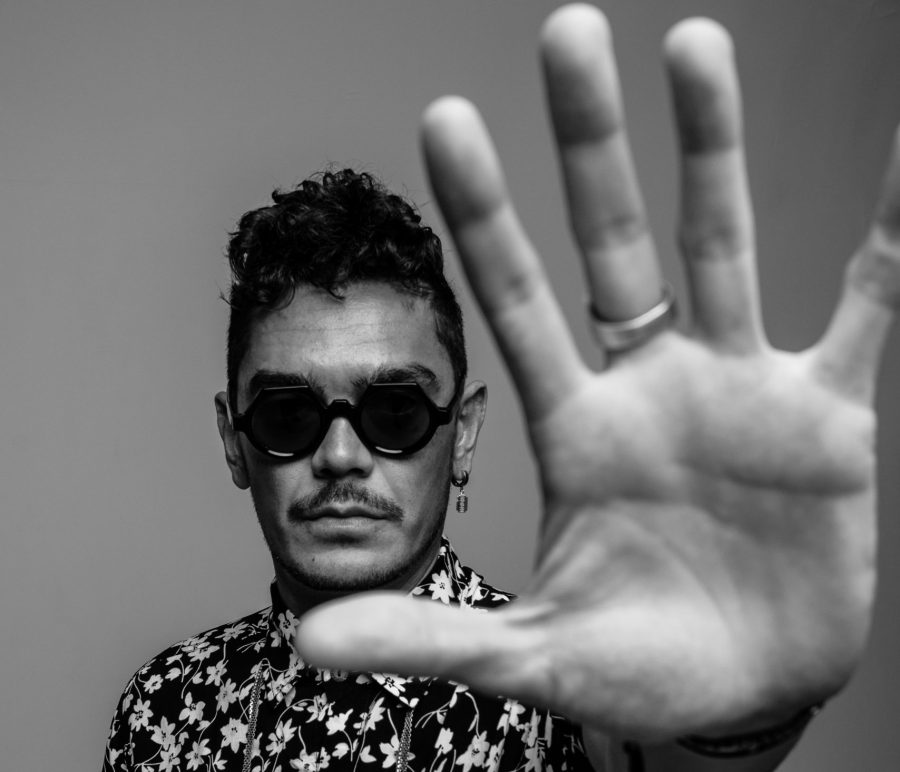 WHAT HAVE BEEN THE HARDEST ASPECTS OF THE LAST FEW MONTHS FOR YOU TO DEAL WITH AS A DJ IN BALI?
Money, Mental & Physical Health.
Without a doubt these have been my personal battles, the anxiety, the depression, the insomnia, and overall vibe out there of uncertainty and anxiety is hard not to ignore. Everyone is in the trenches, suffering, going through their own challenges so you can't help but feel that. I guess during the great depression pre world war 2.. this is what people were going through. I hope we don't follow that trend into world war 3.. lets not go there though.
Being honest with myself, I am mostly responsible for the 3 things I mentioned. Had I had better habits and systems in place I would have probably not been as effected by each of these factors. So that's been a huge insight and great realisation into where I need to put my focus and priorities moving forward.
Thankfully on the money front my mum very kindly offered to help me out and threw me a lifeline on the promise I went into the studio and used the time wisely… I am blessed and hope to make her proud!
WE WILL COME ONTO YOUR STUDIO WORK IN A SECOND BUT WAS THAT STUDIO TIME YOUR INITIAL PLAN FROM THE OFFSET OR WAS IT SOMETHING YOU DEVELOPED AS THE GRAVITY OF THE SITUATION AND HOW LONG YOU WOULD BE UNABLE TO PLAY OUT AGAIN BECAME APPARENT?
The funny thing is, when I moved to Bali it was never to promote events and even to DJ all that much. I moved here to be in a place where I could spend hours and hours learning music, learning production then applying that and relating that process while going on a journey of seeking out inspiration from listening to music, sharing time with friends and having them show me music they like or produced… But it didn't really happen like that, after the first few months which were tough due to my agent not processing my Kitas.. Once I got that, it was non stop gigs… So after my gigs I would be inspired and buzzing and make music.. That has really taken a toll on me, so I have spent quite a bit of time, not doing much at all!
Once it became obvious that I needed to re think how I make a living, I came up with a few ideas, but somehow I always came back to the focus of my initial intention to why I came here… That being to learn, develop practice and grow as a artist, producer, musician and DJ. I always said to myself I'm going to take 2 months off and commit to intense learning and writing.. 4 years later and that never happened… So if I'm being honest this pandemic has created a situation where I'm lucky enough to actually embrace it. There is literally no excuse, the music world is on lock down..
I have come up with another way that allows me to channel everything I do when I produce music, use all my studio gear but for a different purpose and market and I'm really excited to get that all off the ground more on that another time.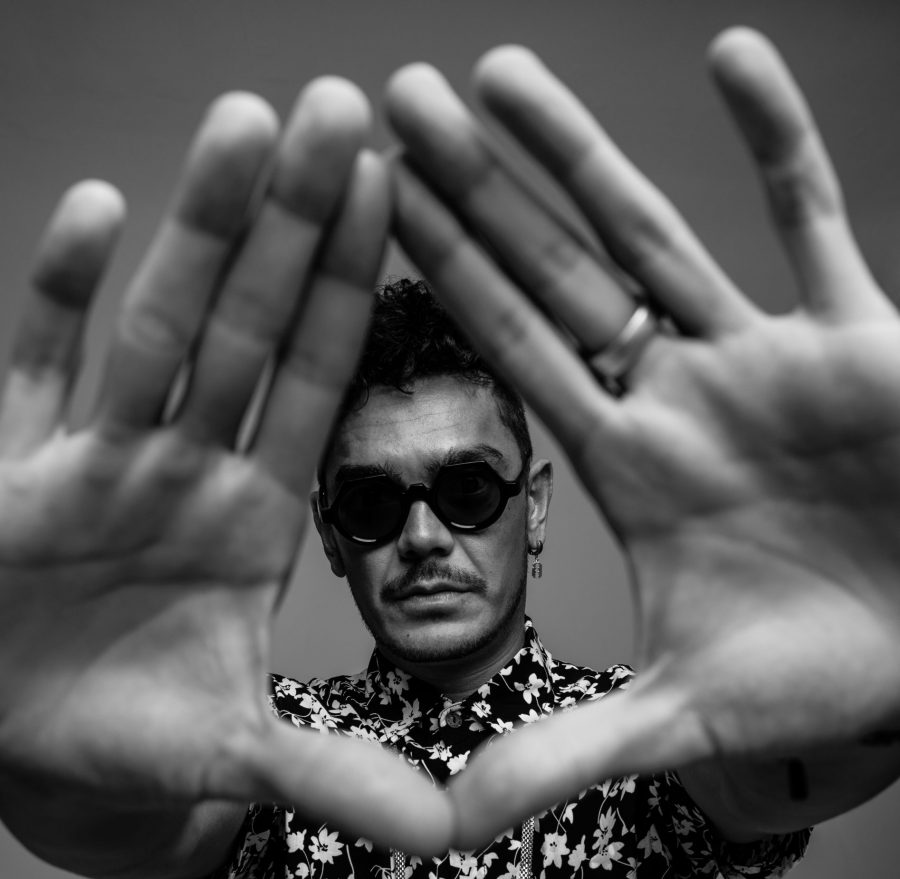 NOW WE HAVE GOT THE NEGATIVE NEWS OUT THE WAY LETS FOCUS ON THE POSITIVES THAT HAVE COME OUT OF THIS SITUATION FOR YOU… FIRST UP, TELL US ABOUT YOUR ALTER-EGO AND BOTH THE INSPIRATION OF CREATING THIS NEW CHANNEL FOR YOUR CREATIVITY AND HOW THAT WORK DIFFERS FROM YOUR REGULAR PRODUCTION
Great! Lets do it..
Without sounding like a guy thats just checked out of an institute .. I actually have 2 alter egos.. (haha) I guess actors have many more and some probably stick to them.. Like Ross From friends.. I don't think I could ever see that guy play Neo in Matrix or be the lead villain in a guy Ritchie film!
Few people know that I'm actually called Kai which means Ocean in Japanese written 海. Im not actually called Kaiser and therefore Kaiser Waldon is my first alter ego, he's the house & techno sounding DJ producer that is all about making you want to dance by trying to make you feel comfortable, sexy and noticed.
The second is Motohashi (my Japanese surname).. That ego has been slowly evolving and its pretty exciting stuff, because he gets to sit down and make music and not worry if the song is going to make people dance or not… So I get to push more boundaries with that project, I sing, I do a lot more musical solos, there is lots of improvisation and imperfection.
I produce as if it was a live gig, that's how I'm approaching the song making with Motohashi. The exciting thing is spending the time on sound design and creative ideas helps my Kaiser Waldon stuff they kind cross pollinate which is great. At the moment I'm spending about 80% on Kaiser and 20% on Motohashi in my studio sessions.. Its a healthy balance at the moment.
WAS IT HARD TO GET INSPIRED IN THIS TIME AND WHAT WERE YOUR INSPIRATIONS BEHIND THE MUSIC YOU HAVE BEEN MAKING?
Errr… good question. For Kaiser yes it was hard, for Motohashi no.. Motohashi has quite a bluesy vibe so given the times that guy couldn't stop having something to say.. I had to shut him up at times!
WHICH TRACKS IN PARTICULAR ARE YOU MOST HAPPY WITH FROM THIS LOCKDOWN STUDIO TIME AND WHY?
Looking at my white board I have a shit load of works in progress, many collaborations with other artists around the world as well as a lot of solo stuff..
My latest release (THIS IS THE TRACK AT THE START OF THE FEATURE WHICH IF YOU ARE NOT LISTENING TO SCROLL UP AND SORT YOUR SHIT OUT!) for example came totally out of my lock down experience… my friend introduce me to this Dj Nii Tei and I enjoyed his mix, contacted him and one thing led to another, he sent me stems and then I worked on the track and voila we had a collaboration.. That's something that would not have happened if it wasn't for Covid. The track just came out on a complication on Miami label Wayu Records, You can hear in that track I'm doing a lot of solo takes… There is a sense of musical freedom. So a hint of Motohashi has crossed over to the Kaiser realm…
Now Nii Tei and I are in regular contact offering support during these times , from one end of the world to the other. We have a second track now that's in it's early stages.. I love making art with other artists who are on the same wave length… Its just an absolute vibe!
LAST BUT NOT LEAST, DO YOU THINK YOU WILL COME OUT OF THIS EXPERIENCE DIFFERENT FROM WHEN YOU WENT IN AND IF SO HOW?
Yes! Very different.. What I mean by that is a different part of me will come to the forefront of who I am and what I do. Its always been there, but it hasn't had the chance, or should I say I haven't made the time and effort to give those yearning aspects of me a chance to come to the surface.
I have been incredibly anti social, showing all kinds of anti social behaviour. Before if I didn't respond to a text I was simply super busy and that text might have come while I was in the middle of something.. but during these times I would literally just keep my phone on aeroplane mode for days not wanting to be connected to anything.
I've struggled with social media, my profession requires me to put content out their. But if you feel like shit you don't really want to put up some happy picture, and you don't really want to ruin someones mood by putting up some 'poor me' picture. So I opted for total silence…
It didn't help when many of my friends were posting these super happy pictures.. I felt even more alone and depressed. It was only until I reached out or they reached out to me for a call or message did I realise they were equally depressed if not more.. Social media has been really toxic like that.. I'm not sure why my friends post happy photos.. I'm sure it comes from a good place.. but it certainly didn't help my situation.
This leads me to the biggest lesson…. Its been how much more value I put on quality time with friends and loved ones. We are a social species and we need human interaction. Isolation has tested that innate human nature.. to the brink..
So anyone who's reading this please tell someone you love them, miss them… call them up and have a laugh about a funny memory or simply ask how they are.. I've been doing a lot of that, and its really helped and shifted my value to just how important positive the people you love in your life are , they are everything.. without them nothing really matters as they are the ones that give what you do meaning.
THANK YOU KAISER FOR AN AWESOME AND HONEST INSIGHT INTO HOW YOU HAVE ADAPTED IN THIS CRAZY PERIOD THAT HAS HIT THE INDUSTRY SO HARD IN RECENT WEEKS AND MONTHS AND WE LOOK FORWARD TO HEARING MORE OF YOUR WORK AND SHARING IT WITH OUR FOLLOWERS IN COMING WEEKS! 
IN THE MEANTIME TAKE SOME TIME TO CHECK OUT KAISER'S LINKS AND CHANNELS: