SIGNAL ASIA 2020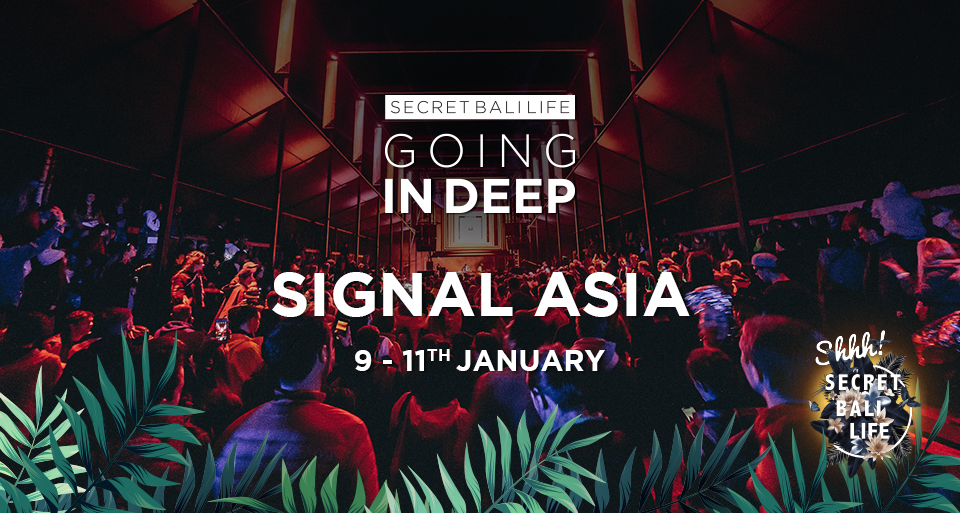 Recognized as one of the most intriguing and adventurous music events – Signal Festival, is originally a four-day event held annually in the misty forests of Nikola-Lenivets, a four hours ride away from Russia's capital. Each event held is integrated into a unique space merging architecture, music, design and media-art objects.
It was back in 2017, when Moscow's nightlife pros united as a team to launch what would eventually become a utopia: a large scale festival in the territory of Ugra National park, a beautiful misty paradise. Fast-forward 2 years later and SIGNAL expects to gather over 10,000 people in its third instalment at the stunning Nikola-Lenivets. Earning a reputation as an art-park that holds a remarkable heritage from numerous forward-thinking architects, this small spot on the map has become a haven for creative minds and educated travellers in less than a decade.
With Russia's luscious nature set as it's background and numerous breathtaking installations – all of which have no analogs – sprinkled across the entire compound. It's no wonder that, SIGNAL has become one of THE biggest cultural and musical events, amazing attendees from around the world, many of whom return to Nikola-Lenivets yearly as it has found a place in their hearts forever.
This year's motto of the festival sounds clear and simple: Terrain of Freedom. Signal 2019 encourages friendly communities to run autonomous camps based on unique creative ideas, much like how the first two events welcomed and sponsored independent artists to present their work. The motto was warmly accepted by Moscow's major promoters the Volks and System 108 who will bring their lineups and audiences to the festival.
Under its name, Signal Festival has united the forces needed to make one of the best festivals in Russia happen. Now with SIGNALs mega-success they're going global for the first time ever, with a 2-day festival in the works for January 2020, in Bali.
It's set to be a series of large-scale events for electronic music lovers, in the island's busiest spot. Three arenas – Vault, Neverland and Jungle Club – will come to life on the ocean shores of the vibrant nightlife centre of Canggu, the hub for travellers, surfers and digital nomads from all over the world. Cutting-edge music and live performances, surfing and yoga, street art, hipsters cafes and beach bars come together to create a dynamic environment inspired by SIGNALs 'Terrain of Freedom' concept.
With visuals shaped by Sila Sveta, S E T U P and Arthew0 and a massive line-up of: Abelle, Andrey Lee, Anton M + Starsky, Bastian, Ben Pound, Bill Patrick, Binh, Chris Stussy, Daniel Suwenda, Denis Kaznacheev, DJ Masda, Elliot English, Forest (live), Francesco Del Garda, Golikov, Karim, Latex (live), Mashkov, Nicolas Lutz, Obgon, PNNY, Pompeya (live), Rhadoo, Pete Santos & Jay Mugelli, Sapphire Slows + Benjamin Skepper (live), SHXCXCHCXSH, Shortparis (live), Sofia Rodina, Vera, Vlada – the festival is set to be a bona fide event of epic proportions.
With SIGNAL taking the top spot, the start of the new year is already pretty darn exciting. Before we slide into 2020 with SIGNAL, we caught up with its CEO and founder, Sergei Fadeev and Executive Producer, Kirill Chekharin to give you a more in-depth look into the makings and concept behind the luminous festival.
WHAT WAS YOUR BACKGROUND IN THE SCENE PRIOR TO THE LAUNCH OF SIGNAL?
________________________
I've owned my techno club called Rodnya in Moscow for 8 years, where most of my creative vision and taste in music was implemented. Also, I and other guys from our team worked with such projects and clubs as Arma17, Epizode festival, Berghain, Outline festival and many more. Always working to promote Russian underground and contemporary music scenes.
EXPLAIN TO US 'THE TERRAIN OF FREEDOM' IDEOLOGY AND WHAT IT TRANSLATED TO IN RELATION TO THE EVENT ITSELF…
________________________ 
There is a special philosophical message, encoded in the definition of Terrain Of Freedom. This is the freedom to be oneself outside the conventions and the responsibility for one's stay — at the level of any event, within space and on the planet. Consonant thought-forms follow from these theses, such as the ability to create, promote, preserve and empathise.
The main gradation of freedom is independence. A familiar feeling when you want to forcefully push yourself up from the ground, gaining more air into your lungs. Freedom from unnecessary actions and the burden of material things. Also, the festival's eco-manifest is linked to the deep meaning of Terrain Of Freedom.
WHAT SEPARATES SIGNAL FROM OTHER ELECTRONIC MUSIC FESTIVALS IN YOUR OPINION? 
________________________ 
First of all, Signal is not just a festival, it's a whole music & art journey to another dimension. All the people are getting ready for the event a long time before: preparing their tents, ordering RVs or renting houses in the nearest villages. It is an experience and not everybody is ready for this, that's why we love all of our guests so much. They always put a lot of effort into the preparations.
 The whole space of every festival is filled with integrated architectural objects, media-installations and landscape sculptures, and I think these unique features among with an opportunity to dive into unspoiled nature make Signal utterly different from other music festivals.
WHAT HAVE BEEN THE HIGHLIGHTS OF PREVIOUS SIGNAL EVENTS FOR YOU?
________________________ 
It was really hard to organise our first festival. While creating a project we met a lot of hidden obstacles, but the thing is how guests supported Signal after the show. We got a lot of positive feedback that gave us the energy to move on.  
Working on the second festival we decided to create a large-scale and high-technology main stage which is 50 meters in length and 12 meters and accommodates 2 thousand people. Two days before the festival seemed to us that we couldn't cope but we all did our best and everything worked out. When Abdullah Rashim (Antony Linnel) started his magical sounds for a huge crowd and the main media installation made by Sila Sveta company came to life, we realized it was all worth it.
Last August we were unlucky with the weather: it rained heavily all the main night. Nevertheless, all the people just kept dancing in the rain, enjoying the music and supporting each other, and I think that was an amazing example of total freedom and unity. 
WHAT MADE YOU DECIDE ON BALI?
________________________
We do love this island and therefore want to bring here more taste-making music and interesting events. In January we expect a lot of friends coming for holidays and our favourite artists also mostly in Asia. Looking forward to brings some good vibes to Bali from our side. 
HOW WILL YOUR BALI EVENT DIFFER FROM YOUR ANNUAL EVENT BACK HOME?
________________________ 
It's gonna be done in a different format, yet with the same spirit. This time Signal in Bali will happen in the venues, not in the forest. Everybody will stay in hotels and villas, there will be no camp. In Nikola-Lenivets we spend all the 4 days surrounded by the forest and fields, while here, in Canggu, we want to make the whole area breath music for two days.
WHAT IS YOUR MUSIC POLICY?
________________________ 
First of all, we trust our own taste in music. 
Signal includes different facets of contemporary music — from live concerts to massive rave, from traditional melodies to sound experiments. We never invite just somebody because he is really famous and collects a lot of people. We try to create entire and various sound canvas, that will be wondered and pleased by our guests.
WHICH ACTS ARE YOU PARTICULARLY EXCITED ABOUT PERFORMING IN BALI AND WHY?
________________________  
Shortparis
The show of the best Russian live band with a reputation for its jaw-dropping ritualistic performances and electronic soundscapes, as "irrational, spastic dance grooves" converge with "post-punk, experimental noise and acoustic chanson" to form a musical aesthetic that is one of a kind. Certainly one of the most awaited live performances at Signal Asia.
The vinyl-only one-of-a-kind selector with an exceptional collection that encompasses mostly-forgotten house, techno, and electro.
SHXCXCHCXSH
We can't wait to hear the Swedish anonymous duo and their dark and noisy sound that is common to Signal Festival.
Sapphire Slows + Benjamin Skepper 
Japanese DJ and producer will perform with Australian classical cello musician for the first time. This nontrivial and avant-garde duo is definitely must-see.
SUM UP SIGNAL IN ONE LINE 
________________________ 
Unrivalled music & art experience you always dreamed about.
Get your tickets for the wonderful festival that is, SIGNAL Festival, happening between 9th-11th January: https://signal.live
Stay Tuned:
▪️Signal Surf classes: registration is open: tiny.cc/qfrahz
▪️The third wave of artists: tiny.cc/vnkmgz
▪️The second wave of artists is announced: tiny.cc/uvkmgz
▪️The first wave of artists is now confirmed: tiny.cc/qykmgz
Check-out SIGNAL Asia's full line-up of events over 9-11th January, 2020.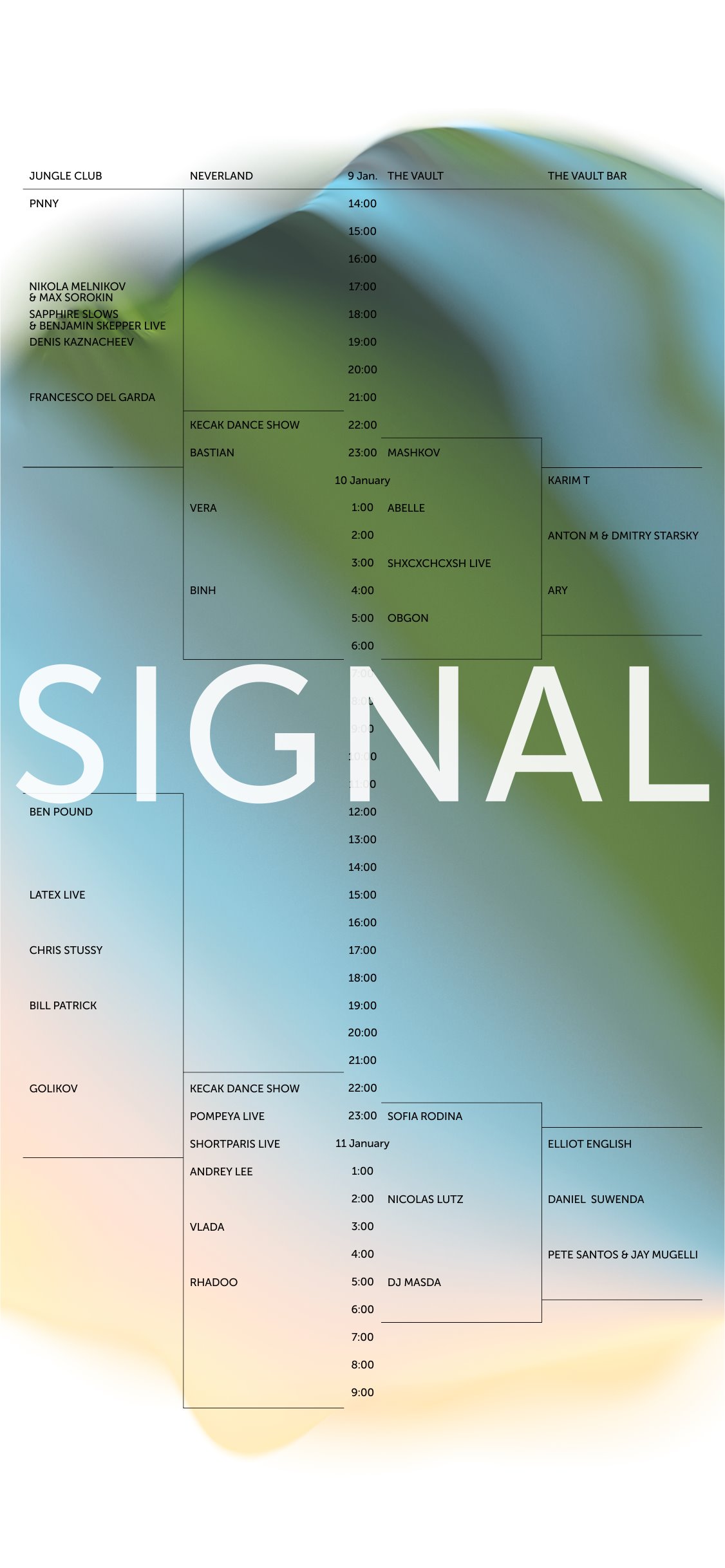 *Attention: ticket-to-wristband exchange and Signal merch are available at the info-point at the Jungle Club. Open from January 8th, mid-day. Get you festival wristband in advance to avoid the entry queue.