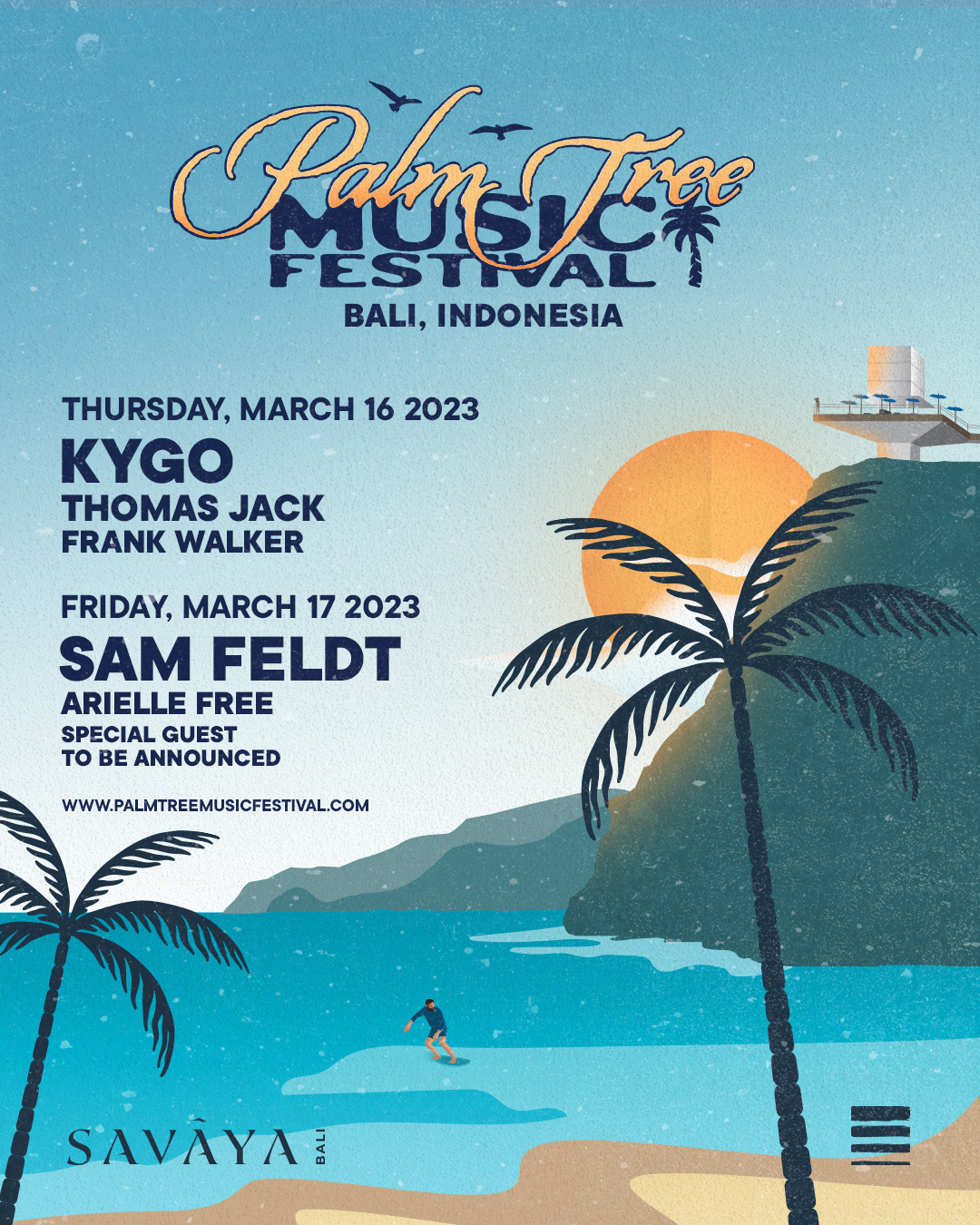 SAVAYA PRESENTS PALM TREE MUSIC FESTIVAL – THURSDAY & FRIDAY MARCH 16 & 17
Thursday, 16th March 2023
1:00pm
SAVAYA PRESENTS PALM TREE MUSIC FESTIVAL, THURSDAY & FRIDAY MARCH 16 & 17.
Kygo and Myles Shaer co-founded launched Pine Tree Crew in 2016, when they gifted palm tree necklaces to their inner circle, as a symbol of community. Their now sharing that community with the wider world, through world-class events.
Brace yourself for some HUGE names for the two days Palm Tree Festival makes its way to Bali for.
The big headliner for Thursday is Kygo himself. The Norwegian DJ has cemented himself as a icon on the scene through his instantly recognisable tropical house sound. He's collabed with every legend you can think of, including John Legend, U2 and Selena Gomez to name a few.
Kygo will be joined by fellow tropical house DJ Thomas Jack on Thursday, as well as Canadian DJ and Kygo's regular tour accompanier Frank Walker.
Friday will see Sam Feldt headline. The Dutch DJ and producer also creates music within the remit of tropical and deep house, the perfect accompaniment for the paradisiacal cliff-top venue of Savaya.
Feldt will be supported by Scottish DJ and broadcaster Arielle Free, known for her radio prominence on the BBC, as well as performances which have taken her worldwide. Friday will also see a special guest take the stage.
Make sure not to sleep on this one, ring ring… it's the dance floor calling!
General admission tickets for Thursday the 16th are IDR 1,250,000 at the time of writing.
General admission tickets for Friday the 17th are IDR 500,000 at the time of writing.
You can grab general admission tickets for Thursday & Friday at a steal of IDR 1,500,000 at the time of writing.