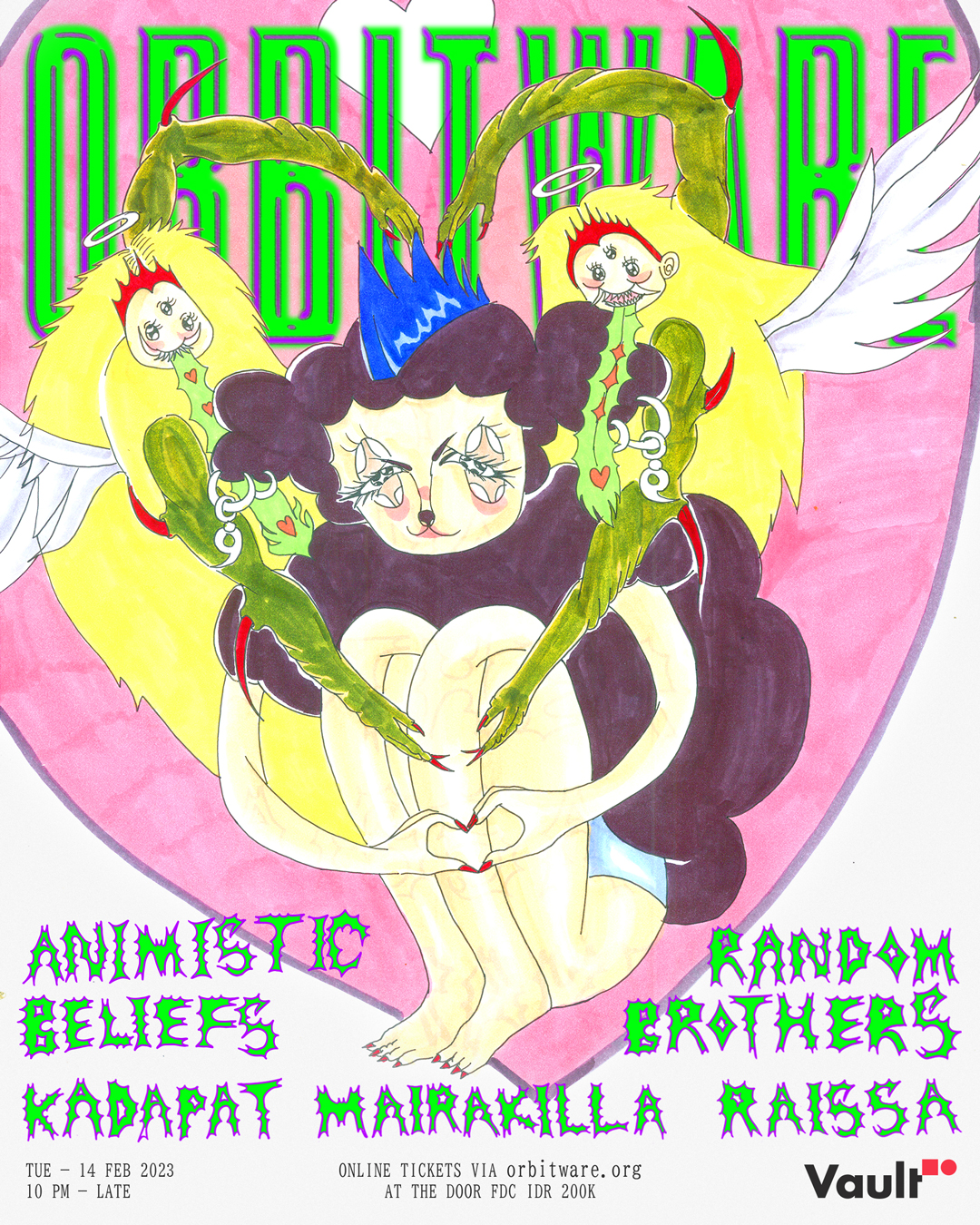 VAULT PRESENTS ORBITWARE – TUESDAY FEBRUARY 14TH
Tuesday, 14th February 2023
10:00pm
VAULT PRESENTS ORBITWARE, TUESDAY FEBRUARY 14TH.
Orbitware is a Bali based platform that showcases talent in a contemporary club setting with a focus on Indonesian and Asian artists.
Expect live performances from Bali-based experimental electronic-gamelan duo Kadapat, and Jakarta-based modular duo Random Brothers, as well as DJ sets from The Rotterdam-based duo, Animistic Beliefs as well and sets from Mairakilla and Raissa.
KADAPAT is a Balinese experimental music project that focuses on intensive and hypnotic live sets featuring occult presentations that offer mystical and immersive gig experiences.
RANDOM BROTHERS – formed by Nara Anindyaguna and Randy Danistha – is an Indonesian electronic music duo that experiments with a hybrid genre between music and technology. The duo blends the borders of pop and electronic music while showcasing their passion for pop culture with dark disco techno and synthpop influences.
Linh Luu and Marvin Lalihatu of ANIMISTIC BELIEFS have solidified their spot in the global underground scene with their profound take on electronic music. On their new record, MERDEKA, they explore their cultural heritage in all of its complexity.
Wether you've got a Valentine this year or not, this is a dead-set option for the music lovers amongst us, to celebrate and give recognition back to the culture within Bali and wider Indonesia and Asia.
Get your tickets early via the resale for IDR 150,000 here.
Or, on the door tickets are IDR 200,000 and include a drink on arrival.
RSVP via WhatsApp for tables here.