ERICK MORILLO X CAFE DEL MAR COMPETITION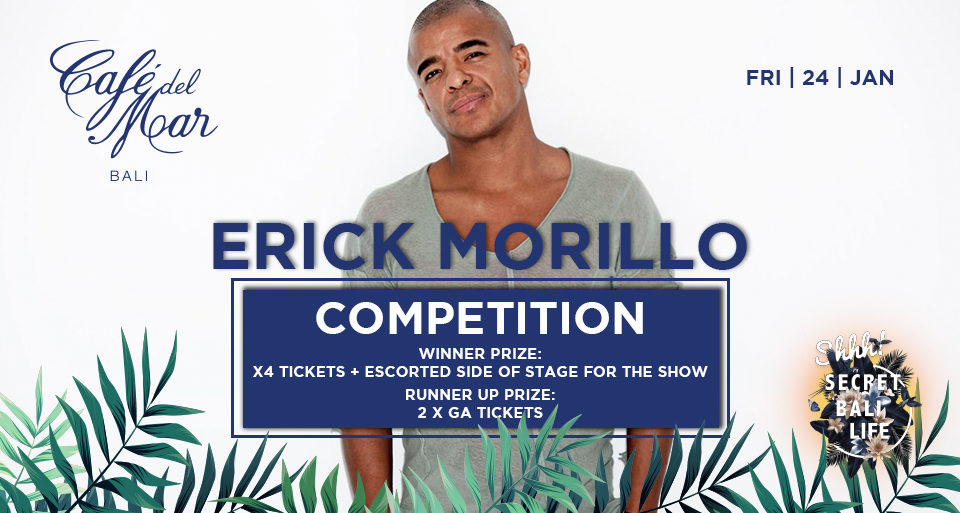 Australia Day weekend (January 24 2020) will see the iconic stage of Café del Mar Bali light up with the charismatic and supremely talented superstar DJ and world renowned producer, ERICK MORILLO! 
The platinum-selling artist has topped charts around the world as the producer behind Reel 2 Real's hit 'I Like To Move It' (used in both Madagascar movies, reaching millions of viewers worldwide and covered by Will I Am in Madagascar 2). There really is very little in the world of music and entertainment that Erick Morillo hasn't turned his touched, he's been responsible for a baffling array of dancefloor tracks including – 'Reach', 'Believe', 'Do What You Want' and 'I Feel Love' – under pseudonyms including Ministers De La Funk, The Dronez (with Harry 'Choo Choo' Romero and Jose Nunez) and Li'l Mo Ying Yang.
Get the full specs on ERICK MORILLO, by checking out Secret Bali Life's article feature 'Artist Focus: Erick Morillo'. You'd even find the answer you're looking for in one of them, for the competition below!
STAND A CHANCE TO WIN X4 TICKETS WORTH RP 1.9MIL TO ERICK MORILLO AT CAFE DEL MAR, ALL YOU GOT TO DO IS ANSWER THE MULTIPLE CHOICE QUESTION BELOW AND EMAIL US YOUR ANSWER TO INFO@SECRETBALI.LIFE BY 23RD JANUARY 2020, THURSDAY AT 3PM!
WE ALSO HAVE A SPECIAL X2 TICKETS FOR THE RUNNER UP! SO GET ON IT, FOLKS!
Erick Morillo is the founder of which record label?
A. Subliminal Records
B. Sublime Records
C. Hot Creations
*One entry per person (so get your friends in on the action!)
Catch the mega-star Erick Morillo behind the decks on 24th January serving up some slick beats, to get you grooving into the naughty hours.