GOING IN DEEP: OMNIA'S THE BIG WEEKEND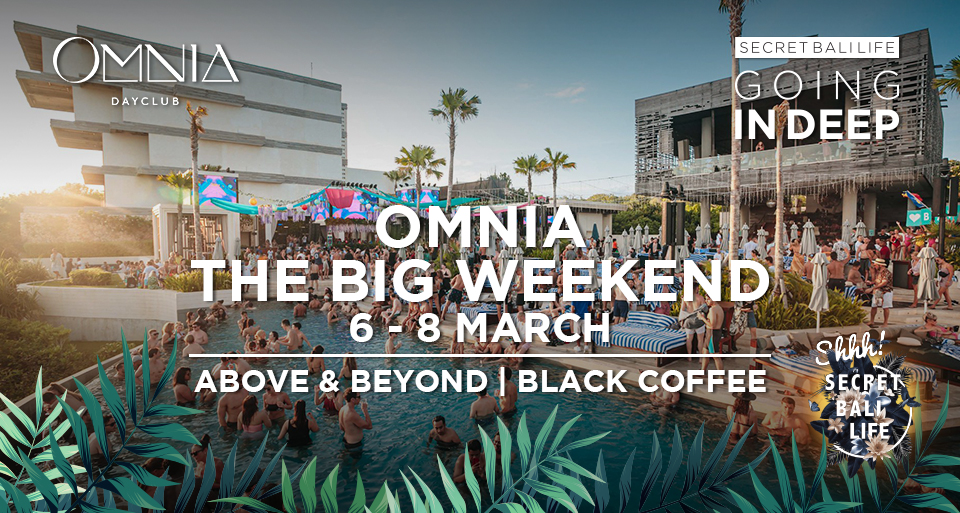 OMNIA Dayclub Bali is consistently pushing the boundaries of the parties they throw. Off the back of hosting the internationally acclaimed global live streaming phenomenon CERCLE that happened on 27th January – read our article feature on the event here, OMNIA is back with their brand new 3-day event: THE BIG WEEKEND. Two of the biggest players in dance music today – Above & Beyond and Black Coffee will be headlining THE BIG WEEKEND happening March 6 to 8th, OMNIA has raised the bar during high season… and we're all for it!
Besides the top-notch line-up of artists, OMNIA is pulling out all the stops with all-day programmes throughout the weekend. You've got yoga sessions, special Sake no Hana party brunches and live entertainment, all complimentary to OMNIA's world-class design and jaw-dropping panoramic vista of the Indian Ocean from its 100m elevated clifftop plateau.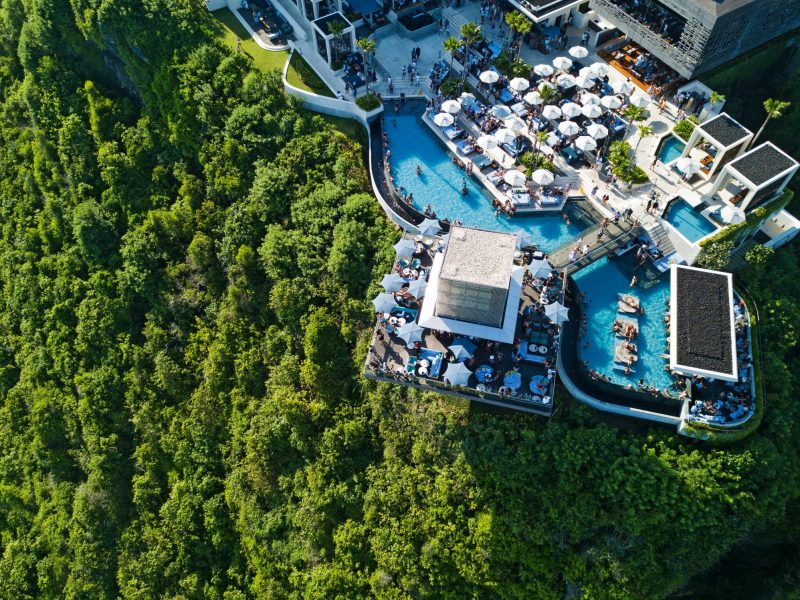 THE BIG WEEKEND begins with the Kick Off Party on March 6th, with Jakarta's open format star DJ W.W. dominating the decks alongside OMNIA's resident DJs. William Wijaya went from hyping the crowds up in the Indonesian Hip Hop club scene, from Jakarta to Bandung all the way up to the Island of the Gods (Bali) for over 6 years now – where he's part of the widely known big production, Trigger Production. w.W has shared the decks with big names like the Godfather of HipHop, DJ GRANDMASTER FLASH, DJ JAZZY JEFF, DJ CASH MONEY, A-TRAK, DJ SPINNA, AFROJACK, just to name a few. He has also played at big events like UMF (Ultra Music Festival) and Djakarta Warehouse Project (2010, 2011, 2012 & 2013).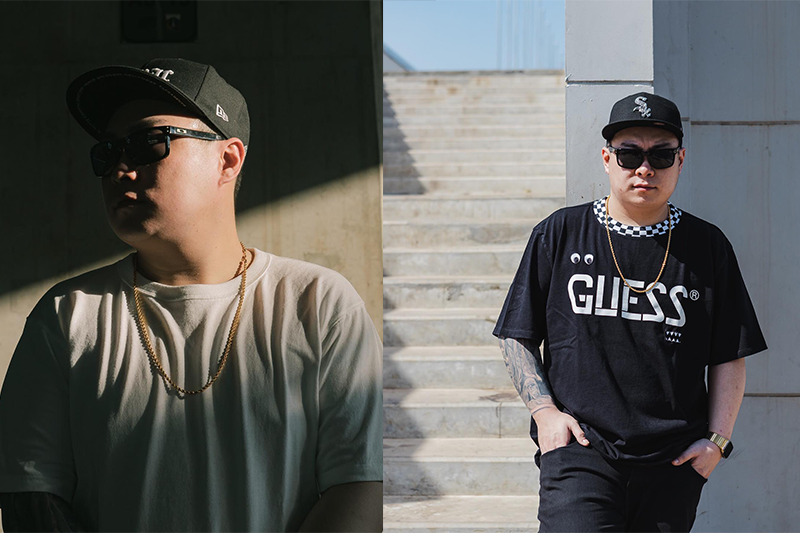 PSA: Everyone who purchases tickets or makes reservations for Saturday or Sunday's Big Weekend event will receive free entry to the Kick Off Party, giving you that extra day to soak in OMNIA's stunning cliff top location.
Starting off day two (March 7th) on a high-note, so high in fact that it's… Above & Beyond (yeah, we went there) OMNIA brings you the UK trio who are nothing short of legendary. Making their great return to the venue after their huge sell out shows in 2018 and 2019, ready to get the crowd pumped with a journey through emotional, melodic and pumping sounds. Famed for their uplifting productions, high-energy live shows and ownership of the highly-acclaimed Ajunabeats and Anjunadeep labels. The trio have also been consistently ranked in DJ Magazine's Top 100 DJs Poll, having placed at: No.6 in 2007, No.4 in 2008 and 2009, No.5 in 2010 and 2011, No.51 in 2018 and most recently No.22 in 2019.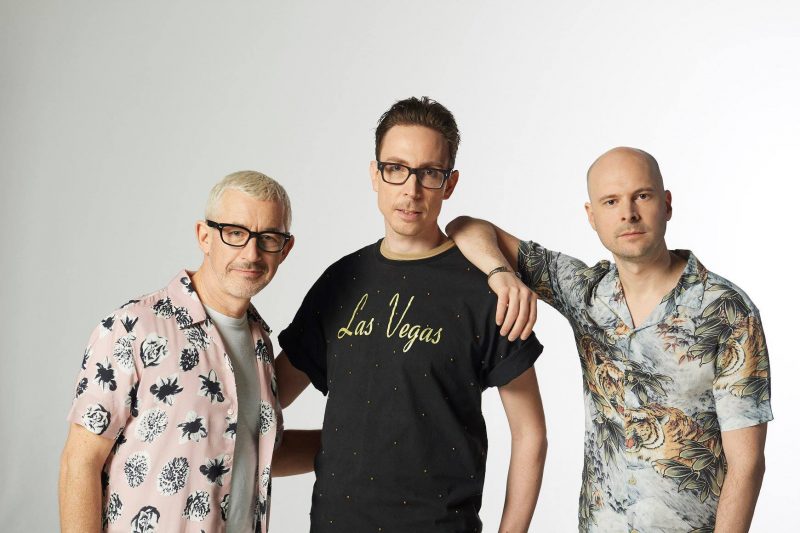 Above & Beyond have carved out a unique space in music and culture, one that reaches far beyond their electronic roots. In so doing, Jono, Paavo and Tony have created something special: a common ground where all sorts of people and ideas can come together. Celebration, kinship, community – it's the A&B way.
To wrap up THE BIG WEEKEND on March 8th, OMNIA has brought in South African Award-winning DJ – Black Coffee! To many Black Coffee has led the 'house music' pathway… establishing a global pre-eminence in vocal house music and a business approach structured to unlock the plethora of opportunities offered by a converged digital realm driven by the songs and their performance. Proving himself with his album 'Home Brewed' as a DJ and producer who defies conventions – Sidestepping Afro-house clichés and stage- managed highs in favor of restrained sophistication, Black Coffee's penchant is for true Afropolitan house: home-brewed but fresh and future-focused. Expect almost sculptural balance and beauty.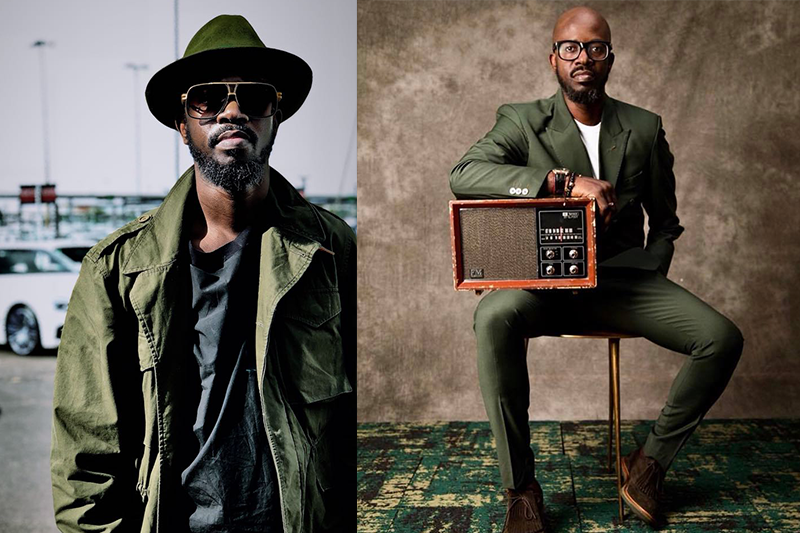 Black Coffee's full tour schedule of more than 250 shows a year continued unabated during 2017 and 2018 and most notably included his return to Coachella, Tomorrowland, a residency at Wynn in
Las Vegas and festivals, venues and events across 4 continents as well as hosting his Black Coffee Block Party to 30 000 people on the streets of Jo'burg and Durban in SA. From family, to community, to clan, to culture, to country, to the world; all are blessed with the prodigious talent and productivity of such a great creative genius, as is Black Coffee.
To make your Uluwatu weekend even sweeter, OMNIA has secured special discounted rates at a selection of Uluwatu's finest hotels for their Big Weekend guests meaning… you can play and stay all weekend long. Make this the moment to explore the immense natural beauty and indulge your senses with a trip to Bali's southern gem – Uluwatu and redefine your day life experience at OMNIA. See you at THE BIG WEEKEND!