THE MARTINEZ BROTHERS X MORABITO ART VILLA COMPETITION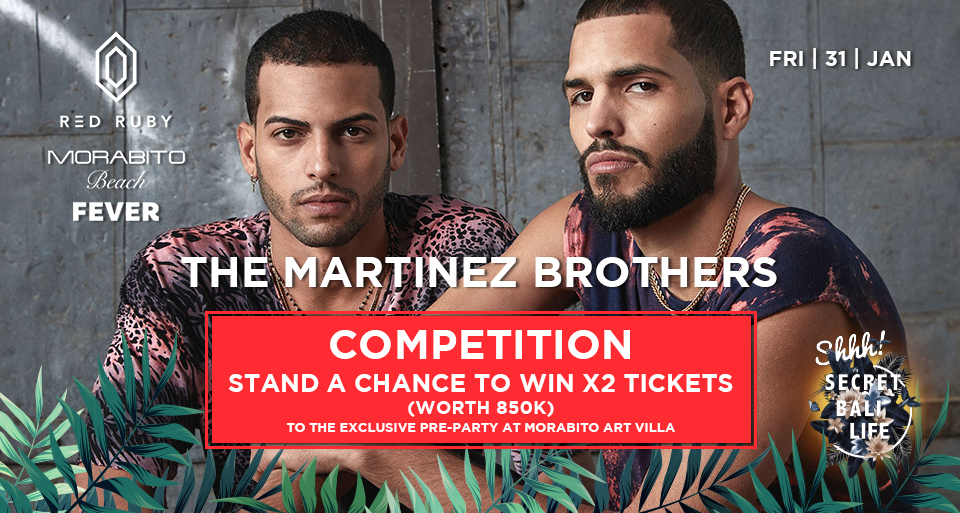 The Martinez Brothers are doubling up on January 31st, 2020 – playing not only at Morabito Art Villa but also at Red Ruby for a spectacular night dosed in quality dance floor bangers and unbeatable stage presence from the boys.
First stop on The Martinez Brothers Bali takeover is the absolute stunner of a venue, Morabito Art Villa, where FEVER is ready to bring you the official pre-party for the event. Second stop on TMB's Bali takeover is nightspot king, Red Ruby. In occasion for the two special events, ticket purchase is necessary to guarantee entry (because it's going to be packed out at both venues!)
Get the full specs on THE MARTINEZ BROTHERS, by checking out Secret Bali Life's article feature 'Artist Focus: The Martinez Brothers'. Hint: You'd probably find the answer you're looking for, for the competition below!
STAND A CHANCE TO WIN X2 TICKETS WORTH RP 850K TO THE EXCLUSIVE PRE-PARTY FOR THE MARTINEZ BROTHERS AT MORABITO ART VILLA, ALL YOU GOT TO DO IS ANSWER THE MULTIPLE CHOICE QUESTION BELOW AND EMAIL US YOUR ANSWER TO INFO@SECRETBALI.LIFE BY 30th JANUARY 2020, THURSDAY AT 2PM!
Where are the Martinez Brothers from?
A. Bronx
B. Bali
C. Iceland
*One entry per person (so get your friends in on the action!)
Lock down 31st January, 2020 in your calendars now, for you're in for an explosive night of quality dance floor hits and party mayhem with The Martinez Brothers. Hit Morabito Art Villa for their pre-party and then Red Ruby for the after-party, your Friday is settled!
Get your tickets to the exclusive pre-party at Morabito Art Villa here: https://bit.ly/2NYsTMH